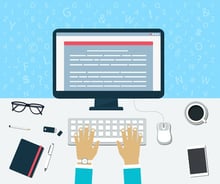 My knowledge of blogging was initially acquired as a graduate student for a social media course. Dr. Andrew Klobucar, who was the professor at NJIT for my social media course, stressed that social media as a whole—which included blogs—had the role of creating community. Communities usually formed under the categories of self-promotion, net-citizenry, common interests, or as an outlet for employers or workers in the marketplace.
Our assignment involved choosing one of these categories, then creating and/or curating content to support a particular community through a blog. The blog that I started in graduate school, TechCommGeekMom, is still going strong five years after it was started, and is still considered one of the top blogging voices in the technical communication and e-learning fields.
I discovered that blogging was a self-learning tool. I learned to improve through trial and error, which made me a stronger blogger in time. There were several important lessons that I learned on my own that have enhanced my abilities that could be brought to the workplace.
1. It's All About the Content
The mantra of technical writers or instructional designers is knowing your audience. TechCommGeekMom has weaved through different topics over the years, but the blog has always revolved around technical communication and e-learning topics, whether it's new technologies, new theories, reviving old practices, or hot topics in workforce issues. I learned that I needed to make sure that my content was relevant, informational, and provided value to the readers.
2. That's the Fact, Jack
Unless I backed up my opinions with evidence showing why I had come to a conclusion, then my voice was just another in a cacophony of rambling voices on the internet. True facts versus "alternative facts" are a serious issue in the American discourse right now, yet this was an important initiative for my blog from the start. By researching and providing concise and cogent evidence supporting my agenda, I became a trusted voice because my views could be validated.
3. Practice Makes Perfect
After promoting my blog on other social media channels like Twitter and Facebook, I discovered that I had a global audience. Subsequently, I honed my writing abilities for a global audience by learning how to use more standardized English so that my readers whose second language was English would find it easier to understand me. Editing and rewriting my blog posts before publishing also became necessary to ensure better comprehension. This has made me a better writer.
4. Step Up!
Blogging is not just about sharing to build community, but it's a call to action to belong and participate. I've written many confessional blog entries, in which I talk about my difficulties in learning new concepts, my problems in my workplace, and job availability. I've often questioned my abilities as a technical communicator, wondering if I had "the right stuff" to be successful. By closing many of my blog posts with questions like, "What do you think? Have you had a similar experience? Include your comments below," seasoned professionals responded, often providing not only advice and experiences, but a different perspective in the conversation.
All great discourses need more than one perspective. By building this community on my blog, I achieved much through discourse, allowing me to engage and gain new insights that would be absorbed and used towards future posts, and gain a sense of collaboration in the process.
My blogging efforts continue to be a learning process. In the past, I've been asked about the criteria for effective blogging. Two of the additional resources below present my past findings. However, I've learned that I would be negligent without adding a call to action now. Without it, it's a one-sided story in your blog post, and you are cutting off an important part of creating participation on your blog.
What do you think? Do you think blogging is passé, or is it still a valuable exercise as a self-learning tool? Include your insights below.
Related Resources:
Blog Post: 5 Tips for Creating Better Global Virtual Training
Today's learners are more global than ever. Blogging helps your content reach a global audience, and helps you understand how best to communicate across cultures. This blog post extends that lesson learned by blogging to the modern virtual classroom.
Writing Guide: Guide On How to Write a Blog Post
Written by Danielle herself, this guide helps get you started on the blog writing process. It's a helpful refresher for those of you with established blogs, or who write other content (think: instructional resources) frequently.
Presentation: Blogging Out Loud
This slideshare deck covers both blogging basics like dos and don'ts, and expert tips for creating and improving content for your learning blog.