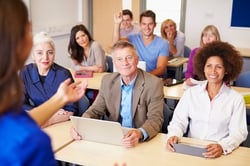 We L&D professionals are lucky. With today's technology, we have options to engage every learner audience, in every possible environment. Even if you have a tight budget and a small team, you can deliver a comprehensive blended learning program. And this is all thanks to learning technology.

Granted, not every organization is comfortable using technology to deliver training. If your learners and leaders are used to traditional training in a classroom, implementing virtual classrooms and e-learning will require a transition.

That transition starts in your own mind, by examining the way you define learning.

Our learning culture has engrained in us an understanding of what learning looks like and feels like. A part of us sees the classroom as a familiar learning environment – an appropriate environment – for learning. It is. But the majority of what we learn on a daily basis doesn't come from a classroom. When your washer breaks, or you need to buy a new insurance policy, where do you turn for knowledge? You might call a relative, or a trusted service professional. Or you might pull out your phone and begin searching Google or YouTube.

Are these experiences part of learning? Of course. You're acquiring new knowledge and skills, just as you would in a classroom. Watching a YouTube video takes far less time, and is less structured, than learning in a traditional classroom. But it gives you the knowledge you need, when you need it.

Is classroom training really superior to videos, or e-learning, or one-on-one mentoring? All of these delivery methods are relevant depending on what you're seeking to teach. It takes time to adjust to that fact. It's not comfortable at first for us as educators. Similarly, it's not comfortable for our learners.

We in learning and development find our role evolving. Where we used to teach, we now teach and advise, mentor, and coach. We don't just communicate to learners what they are required to know as employees. We help them find what they need in order to develop as people. It's our job to help them discover their learning options, and help them utilize those options. It can be unnerving for us, because sometimes we ask ourselves why the learner needs us. If we show them other ways to learn, will they still find us relevant?

The answer is, they will. We are still sources of knowledge for the learner. We just have more tools at our disposal.

Trust that you are relevant. Trust that fact so much that you are relentless in finding the best sources of knowledge for your learners. Allow yourself to be creative. Find documents and webinars produced by your vendors. Look for blogs and videos on topics relevant to your employees. Create classroom activities that challenge the modern learner to find information and bring it back to the group. Create e-learning activities and games.

Ask the learner what they need, and focus intently on serving them. As you trust your own ability, you encourage the learner to trust you.

When learners trust you, they become more willing to try new things. If you consistently bring them tools they can use, they will in turn give you the space to be creative. Ask what they need, then bring them some interesting options – maybe an e-learning course, or a document and some short videos. Ask the learners what they think. Ask for the good and bad. Revise your materials, and incorporate the feedback into your next project.

Anticipate that the feedback will never be 100% positive. And know that there will be times you need to teach your learner to use technology before they can use a new learning tool. If your employees aren't tech savvy, it may take some time before they will be comfortable taking e-learning courses, for example. It's okay to slow down.

Accept that some learners – some people in general – don't react well to change. They may be overly harsh when they criticize something new and different you have put together. Or they may try to ignore it entirely. (In my book, I refer to "techn-ostriches," who try to bury their heads in the sand, hoping that new technology will disappear.) Use negative comments to improve, but don't hold onto them or take them to heart. Even small changes to the status quo can trigger fear in people, and fear can cause negative reactions – at least initially.

Be confident that by trying new things and bringing your learners a wide range of resources, you are giving them the best possible learning experience. You are reaching beyond yourself, beyond your own knowledge. You are making the extra effort to find resources that will develop the learner. As an educator, you are accomplishing your highest professional purpose. If you truly believe that and act accordingly, your learners will help you develop your program.

Related Resources

Research Report: State of the Industry 2016
Read how other organizations are delivering training programs, and analyze the latest trends in learning and development.

Book: Corporate Training Tips & Tricks
This publication shares training program ideas from over 200 L&D professionals. This resource provides new ideas for a number of training needs.

Book: LMS Success: A Step-by-Step Guide to Learning Management System Administration
Learn how to select, implement, and get your organization on board with your LMS. Written by an LMS administrator and e-learning developer, it's an ATD TechKnowledge bestseller that also sold out last year at ATD International.