The Art of Praxis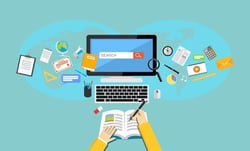 I have been seeing the word "praxis" a lot these days, associated with a few different definitions. To me, the essence of the word, is application – the application of theory to practice. Definitions include examples of practice, and application of knowledge or skills. And, the word is said to have derived from the Greek word for "doing".
Applying theory, knowledge, or skills to practice is what we all aim to do, as modern blended learning practitioners. We use what we consider, know, and know how to do, to make learning happen.
I love making learning happen. I love the creative process just as much as the assembly process. I love creating and making learning come together.
The Makerspace Movement
The makerspace movement was made (pun intended) for me. The makerspace movement is part of the DIY (Do It Yourself) culture, which promotes doing and making things yourself that you would normally rely on someone else doing or making.
It's about creating your own work, which can then be shared and improved upon. It's about learning while doing. It's about praxis.
I have participated in dozens of makerspaces, where I created small toys, robotic spiders, radios, mini-computers, video tutorials, and even a complete eLearning module. All of these events were about making things and learning through hands-on design.
Making Modern Learning Makerspaces
In modern blended learning, we can create makerspaces (in-person and virtual) to involve our learners in praxis. The idea is to create design spaces where we can envision, prototype, and create blended learning design, development, and delivery solutions.
The modern learning makerspace provides resources that learners can use to complete a project, and experts to help guide learner progress in the space. For example, you might need to make a presentation to management on the state of the industry and how it impacts your organization. Where do you get started? How do you know you're on the right track?
In this example, a modern learning makerspace could be all about walking learners through, step-by-step, how to make that presentation. Learners would access templates, share ideas about how to best communicate industry impact, and take away associated resources to share with their teams.
Safety First
The makerspace is not just about making – it's about sharing, modifying, iterating, failing, and re-making. We need more spaces (in-person and virtual) where we can do just that. Many of us learn best by doing, and we need more spaces in our work where we have opportunities to try, and maybe even fail.
Most makerspaces that serve the DIY and builder movements put safety first. This is how, and why failure is okay – nobody gets hurt! Failure can result in iteration, and iteration can result in innovation. New theories, new practice, new praxis.
How to DIY
Here's are a few questions you'll need to answer when creating a modern learning makerspace:
Challenge: What do you want your learners to walk away with?
Process: What steps do they need to take in order to meet the challenge?
Resources: What tools and parts will they need to "make" their designs happen?
Guidance: What expertise needs to be on hand to help the learners?
Collaboration: What opportunities will learners have to collaborate?
Safety: What precautions can you put in place at each stage of the making process to allow learners to safely fail, iterate, re-make, and innovate?
Showcase: Where will you showcase the makerspace products?
Conversation: How will you continue the conversation and continue to engage the community?
In the book, Invent to Learn, Sylvia Martinez and Gary Stager write:
"Maker classrooms are active classrooms. In active classrooms one will find engaged students, often working on multiple projects simultaneously, and teachers unafraid of relinquishing their authoritarian role. The best way to activate your classroom is for your classroom to make something."
Here at InSync, we have made this makerspace movement a part of our learning campaigns, and we encourage you to do the same! Let's make some praxis happen!
I'd like to give a shout out here to Alexandra Pickett, friend and mentor, and champion of praxis! Thanks, Alex, for reminding me to use this word again!
Related Resources
Playbook: What is a Makerspace?
An academic perspective on makerspaces with a great overview and introduction to what a makerspace is. Includes playbooks and project ideas.
Website: Makerspace
This site has a great makerspace playbook, and links to Make magazine, Maker Faire events, and Maker Shed kits you can buy to create innovative tech-based materials.
Modern Learning Makerspace: Blended Learning Hub
I'm helping InSync create a perpetual learning makerspace specifically for education and training professionals. Each month features a curated learning campaign focused on a specific blended learning topic. Pre-register here learn for free during the Blended Learning Instructional Design learning campaign.