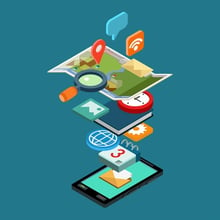 The most important part of training is what happens AFTER the training. Reality (aka science) dictates that people can only ingest and retain so much information, regardless of how well-designed a learning activity may be. Then, given the relative unpredictability of the modern workplace, employees may or may not have immediate opportunities to apply their new knowledge when they get back on the job.
Therefore, L&D strategy cannot stop at delivery. Rather, we must embed continuous learning opportunities within the employee workflow and provide just-in-time support for those who need it.
Mobile technology is built to enable access, retention and application. After all, it's with us all the time. What do you do when you first wake up in the morning? Check your phone for notifications? Me too! Which device do you use more often - your laptop or your phone? Phone? Me too! Employees have constant access to the world's collective wisdom 24/7, 365 days a year. Unfortunately, most organizations are still not harnessing this power to drive knowledge and skill growth in the workplace.
We blame constraints such as limited company devices, restrictive BYOD policies and expensive, time-consuming IT projects for our inability to leverage modern knowledge sharing behaviors. Meanwhile, employees are finding their own ways to use mobile technology to improve their work experience through everyday mobile tools like Facebook and WeChat.
Of course, L&D must abide by company regulations when it comes to technology and information. However, we are in a great position to explore new tools in order to address the immediate employee needs, while also opening stakeholder minds to the potential of mobile technology. If your legacy LMS can't truly enable mobile learning - and most can't - then it's time to find applications that can!
Here are three ideas for using FREE mobile EdTech to support continuous learning after a training activity.
Continued Support via Slack
Slack has risen to prominence as a collaboration platform that can reduce reliance on email while fostering connections between remote team members. Because it sorts conversation by topical channels, it can also be used to facilitate ongoing discussion related to training activities. Rather than using discussion boards, which are quickly abandoned, or email lists, which just add to inbox clutter, create a Slack channel for your event and invite participants to voluntarily engage in continued discussion. This renews the connection between participants and, with social features such as mentions and 1:1 chat, provides a mechanism for real-time performance support and best practice sharing.
A basic Slack team can be created for free and allows administrators to control access to the entire site as well as specific channels. Slack can also be accessed via iOS and Android apps, as well as any web browser.
Refresher Podcasts via Google Drive
Podcasts are a mobile-first knowledge sharing modality. For example, I typically listen during lengthy car rides and flights. If you support employees who are highly mobile, a podcast is a great way to offer brief, engaging content to refresh important job knowledge. Rather than trying to build you own podcast app, just use a controlled Google Drive account. With minimal resources, you can easily produce MP3 files and share them with participants via Drive. Employees can then play podcasts via the cloud or mark them for offline access. And, just like Slack, a Drive account can be set up for free, access can be controlled and files can be viewed through a mobile app or web browser. So, rather than worry about the technology side of podcasting, you can focus on sharing quality information in a modern, engaging way.
Curated Learning Resources via Flipboard
Flipboard completes our free mobile technology trifecta. While Drive provides a simple way to push files, such as podcasts, to your participants, Flipboard provides a simple, mobile-friendly way to curate online resources and extend the learning experience. Online content, such as articles and videos, can be collected into topical magazines. You can add comments alongside your content to provide extra context for why you chose this resource. Then, invite training participants to view your magazine resources for continued, on-demand learning. You can also enable participants as contributors so they can add to the collection as they discover new resources in their work.
Mobile technology just isn't as challenging as we often make it out to be in L&D. Consumer technology is constantly driving innovation and fostering user behaviors. We must find creative ways to leverage this technology to support perpetual learning for employees. Slack, Google Drive and Flipboard are just three examples of mobile apps that can be used to put right-fit, on-demand learning content into your employees' pockets.
Of course, we must determine the right ways to apply mobile technology based on the context of our workplaces. By first exploring readily-available and familiar mobile tools, we can identify the content and behaviors that make a difference within our businesses and design our continuous learning strategies accordingly.
Related Resources