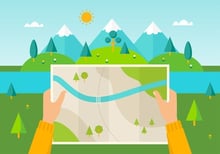 As a Learning Experience Designer, my job requires that I navigate a complex landscape. Each new project that I work on involves different parameters, sends me down unique pathways, and sets up obstacles along the way.
Even with many years of experience under my belt, I still find myself lost in this landscape at times. You may find yourself just as lost in your own work, too. As learning experience designers, we often work under compressed timelines and have to rely solely on our instincts and defined learning objectives to guide us toward a successful project outcomes.
It may surprise you to learn that the sport of orienteering (not your traditional instructional design resource) can provide us with some valuable guidance.
Orienteering is a sport that requires using navigational skills, along with a map and a compass, to find your way from point to point in unfamiliar terrain while trekking at high speed. Sounds a lot like what we do on a daily basis, right?
Orienteering is a critical component of my blended learning instructional design work. It helps me get out of the weeds, keeps me from getting overwhelmed on tough projects, and allows me to stay focused and creative when faced with design challenges. Use one (or all!) of these seven approaches to orient yourself the next time you get lost in the design process.
Look for Landmarks
In any context, looking for landmarks when we are lost helps us situate ourselves where we currently are. These familiar features define the landscape so we can more easily navigate a place that's otherwise unfamiliar. Recognizable details orient us to our location, and allow us to make logical choices about where to go next.
When you're lost in a design, search for familiar territory. Ask yourself, "Do any of the features of this project look like somewhere I've been before?" Refer to your project map or brainstorming sketches or documents to find connections between those plans and your design's current iteration. Getting your bearings makes it much easier to move forward productively.
Read the Signs
A natural extension of looking for landmarks, reading the signs tells us where to go next with our design. These signs explain how to get to the next place, and which steps to take to get there. Signs can include the tone and body language of your client or Subject Matter Experts, and context clues within supporting documentation. This orienteering approach reinvigorates our momentum with directive next steps, all from the work we've already done.
Check the Map
Of all the orienteering approaches, people most often check their maps when lost in the design process. In orienteering, a map constitutes one of the most critical pieces of equipment available.
Check your map by asking:
Where am I?
What can I do?
Where do I need to go?
What does that mean for all of my learners?
It's at this point that I often check in with my personal learning network, mentors, and colleagues. You can also look at your facilitation guide, review things you've done before, and consider where you are in relationship to the whole learning experience project plan.
Call a Friend
We often forget how helpful our networks can be in times of instructional design crisis. Sometimes, when we're lost, the most effective tool in our toolbox is the people who know more than us. Reach out to a Subject Matter Expert if you're stuck creating a technical piece of content. Consult your mentor to find out if they've encountered a similar issue in their work. Contact a senior manager or program director and talk through the challenge to identify possible solutions.
Ask a Stranger
I'm never afraid to ask someone to help me find where I'm going, even if I don't know them personally. Reaching out to industry-recognized experts not only provides insight into how to move forward, but also helps me build my networks. You, too, can benefit from this orienteering approach when lost in your design journey. Don't fear the unknown, or be ashamed of potentially failing or not having the right answer. We all know something that could be useful to someone else, so be willing to ask for advice (and to share your own when prompted).
Turn to Google
If you're outside and lost, it's highly likely that you'd pull out your phone and ask Google Maps to get you home. Do the same when lost in your blended learning instructional design! We have so much information now, that we often go to Google first. We ask search engines for data and direction. Having beneficial EdTech tools like Google and YouTube at our fingertips allows us to find what we need in the moment, and can orient us to our current location and future direction.
Stay Lost
There are times when I'll be working on a project and I realize that I'm lost. And I choose to stay lost. This counter-intuitive approach to orienteering often helps me find a new direction. A willingness to work through being lost opens us up to finding new pathways, and ultimately allows us to blaze new trails. Use this method to spark your creativity, and when you've got a strong determination to work through the challenge at hand.
Next time you find yourself lost within an instructional design project, consider your orienteering options. Reach out if you need to call a friend, or ask a stranger. Who knows, I might just be right around the corner!
We welcome your tips and ideas for navigating your professional landscape and the instructional design process in the comments below.
Related Resources
Blog: Communication and Listening Exercises
Listening to your mentor, your personal learning network (PLN), your clients, and your learners can get your instructional design moving in the right direction after you get lost. This blog post provides 25 different group exercises you can use to build your listening skills.
Curated Magazine: Scoop
Use this curated digital magazine to explore the sport of orienteering. Connect the lessons learned back to your job as a modern learning professional to keep your instructional designs on track.
BYTE Session Recording: Putting the Love Back into Your Blended Learning Instructional Design
Orienting is just part of my tried-and-true blended learning instructional design process. Watch my InSync BYTE session recording to find out the other three critical components.