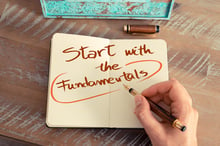 Virtually There Session Recap
Does your organization's learning function struggle to improve long-term performance of employees? Would it surprise you that this result occurs with consistent frequency?
After nearly four decades of experience in L&D, thought leader Bob Mosher has witnessed the disappointing phenomenon over and over again.
The traditional model of training does not serve our learne
rs and their needs. So what can we do to move from training to knowledge transfer and sustained improvement? Bob advocates for using The 5 Moments of Need™ – a model he not only applies to his work, but that he created with his colleague Dr. Conrad Gottfredson.
Bob walked Virtually There participants through his innovative model, its advantages, and how to apply it to your own instructional design work during his fantastic Virtually There session, 5 Moments of Need™: Are We Missing a HUGE Opportunity?
Jennifer Hofmann has discussed her love of Bob's work, and says his model radically modernized her learning design and delivery approach. If you have yet to discover The 5 Moments of Need™ or would like a refresher, you can:
If you are eager to begin shifting away from outdated training to true performance support, Bob recommends you follow four specific design steps:
"Embed content in the workflow so it's readily available at the moment of apply." Learning only has an impact if learners can access it. Designers need to not only create the right tools, but as Bob urges, to also incorporate them where and when learners will look for them.
Ensure resources are "contextual according to specific roles and varying access need." Context and relevancy impact the usefulness of performance support. Bob encourages designers to use them to their advantage for improved learner experience. The InSync Team agrees!
Create content with "just enough in the form needed to effectively perform inside the business process." Resist the urge to supply learners with everything and the kitchen sink. SMEs say everything matters, but experience proves it overwhelms learners. Bob has witnessed that the best results occur when designers pare down to the most critical resources.
Remember that "trusted and curated content…supports a common language and enables meaningful collaboration." Instructional design secret: in-house designers do not need to create every piece of content in a training program. Turn to expert-written articles, outside blogs, and cutting-edge videos and pull them into designs. Curate them by providing context around their value. It helps keep resources current and modern, a key to learners' perception of applicability.
If you remember one design recommendation from Bob's session, our team found the following particularly insightful: make sure everything is "2-clicks and 10-seconds." For content to make the most difference, make sure learners can get to it when they need it in two mouse clicks and in 10 seconds or less.
A huge thank you to Bob Mosher for joining the Virtually There series and sharing his insight with InSync Training and their learners.