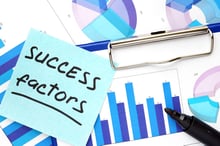 Virtually There Session Recap
The future of learning is blended. As content becomes more complex, learner attention spans shorten, and new technologies emerge, a combination approach to training offers engagement and impact.
But what stars need to align in order to create an effective blend? Expert Dr. Rebecca Sutherns joined the Virtually There series to share five case studies from her career that defined her personal best practices. Four success factors proved particularly pertinent to our processes.
But First…
Before jumping into the factors to focus on for better blends, we must first understand one key assumption.
The blends to which Dr. Sutherns refers include multiple integrated delivery modalities. For instance, a program beginning with two days of traditional face-to-face classroom instruction actively supported by five weeks of follow-up self-directed digital learning. In this example, the instructional design thoughtfully combines the two modalities into one comprehensive experience.
A program that features disjointed, disconnected, or non-integrated multi-method delivery does not "count" as blended in this case.
The Four Success Factors
Dr. Sutherns generously shared her practical knowledge about program design and facilitation, and while the full event recording includes much more insight, these four success factors will move your blend in the right direction:
Both is better than one or the other. Often, stakeholders believe we must choose between delivery modes. Either we host live events in the traditional classroom OR the virtual environment. We can use surveys OR town-hall style feedback sessions. Dr. Sutherns' case studies prove this is an outdated mindset. The best blends use both in-person and online elements together, changing it to an "and" equation, rather than "either/or."
Use them for what they're best at. Jennifer Hofmann so strongly advocates for the use of blended learning because it allows designers to choose authentic instructional treatments at the learning objective level. Dr. Sutherns reinforces this perspective, urging us to consider the strengths of in-person and digital learning when creating a program. She explains, "Digital is great for scale, dealing with geography and distance, and synthesizing data. In-person is great at nuance and collaboration." Effective blended learning programs leverage the advantages of all options.
Intentionally connect them to each other. Think back to the distinction made at the beginning of the blog. Intentionality matters when designing and implementing a blend. "Don't just design an online piece and then a separate in-person piece," Dr. Sutherns urges, "They need to connect to each other." How can you accomplish this goal? Strengthen communication and contact between all components. We suggest using a course map approach to visualize the connecting threads between program elements and to succinctly explain to learners and stakeholders how the process unfolds.
Get the basics right. Blends get complicated quickly. With multiple elements and lengthy program timelines, they can get unwieldy and unmanageable. Focus on design, facilitation, and learner engagement fundamentals. Sticking to core, long-standing best practices ensures an effective blend. Keep an eye on the overarching program goals and learning objectives, but concentrate on working through each element using tried-and-true methods for maximum impact.
Whether your organization already combines in-person and online learning, or this model has yet to appear in your programs, you can start learning something new and improve your blended training. These four success factors get you started. Click here to access the recording.
Do you already use these or other best practices? What processes do you swear by when creating and facilitating modern learning? Share them in the comments below?
The InSync Team would like to thank Dr. Rebecca Sutherns for joining the Virtually There series and sharing her insight with our learning community.