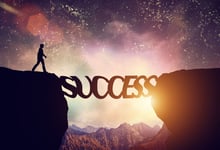 Organizational boundaries keep growing and becoming more fluid, and as our learner base disperses around the globe, training programs have to adapt appropriately. That's no small feat in the face of multi-cultural classrooms, emerging technologies, and stakeholder expectations of learning success.
Multi-method delivery, or the simultaneous support and instruction of non-co-located learners, provides a popular and effective solution in the modern workplace. Organizations managing remote and in-person learners have had success with this approach, as they're able to balance the needs of both groups, while successfully engaging all participants.
Ready to incorporate multi-method delivery into your modern blended learning methodology? Make sure you implement the four factors required for success!
Success Factor 1: Instructor Preparation
One common misstep organizations make when implementing multi-method delivery is a lack of consideration of the facilitation skills required in this model. Think about it – your instructors teach to two disparate groups at once, meaning twice the work! Even though face-to-face and virtual facilitation skills overlap to some extent, the training environment presents unique challenges.
Establish a form of instructor preparation before implementation. A course or training program that teaches facilitators the basic skills of virtual audience engagement, how to deal with difficult learners, and managing face-to-face and remote learners simultaneously proves immeasurably valuable. Ultimately, we need to define the differences present in this innovative delivery approach and prepare facilitators to successfully navigate those changes.
Success Factor 2: Material Design
Implementing existing face-to-face course materials into a combined learning environment creates problems. Hands-on activities, collaboration, and feedback processes require special consideration. For example, even the most up-to-date virtual classroom platforms can't support learners building a robot or changing a tire. If your existing program focuses on those types of practical application, an instructional design overhaul may be required.
Don't just think about the face-to-face instructor-led components of a program. Critically brainstorm how to engage people in the online environment. Designers will likely need to create virtual classroom-specific activities accommodated by the selected platforms. Updating materials at the beginning of the multi-method delivery implementation process saves facilitator and learner headaches down the line.
Success Factor 3: Technology
Multi-method delivery requires extensive technology considerations. Will you use tracking cameras in the face-to-face classroom so virtual learners experience a live-feed of the instruction? Will the virtual classroom platform allow learners to ask questions directly to the facilitator or interact with co-located learners? What microphones will facilitators use? An investment in technology can cost a pretty penny, and an ad-hoc purchasing process often becomes cost-prohibitive. A comprehensive definition of what technologies the program needs is a worthwhile investment.
Additionally, instructional technology includes many amazing, cool features. But functionality will only take you so far if you don't thoughtfully plan what technologies you will leverage, how they integrate together, and whether they're appropriate for the goals of the training program.
Success Factor 4: Level the Playing Field
The most effective multi-method deliveries acknowledge that learner groups have equal standing and create a learning environment in which both virtual and face-to-face learners have the option to participate, collaborate, and learn equally. Facilitators and designers must create a comparable experience for all learners. A herculean task, to be sure, but a mission-critical one if the training initiative will meet defined expectations.
Throughout the entire implementation process, consider the experience from both perspectives. Ask questions like, "Can virtual learners participate fully in this activity?" and, "Will face-to-face learners have the same access to post-session materials?" At no point do you want learners in either group to feel "less than." It hinders the skill building process and discredits the value of your training before program evaluations have even gone out.
All four expert-identified success factors rely on prior proper planning. With the right design and delivery, implementation becomes a less stressful process for everyone involved and learners are more likely to walk away with applicable skills. Isn't that the hope of every L&D initiative?