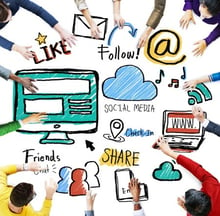 While social media is one of the best mediums for marketing, not enough companies are giving their employees the training and tools to make the most out of it. Most companies will give their employees some basic guidelines on how to conduct themselves on various platforms but often do not go any further.
If you've been thinking about rallying your team to boost your social media results, here are some tips to launch a successful training program.
Tip #1: Get Clear on How to Engage
Many companies assume that their employees know how to conduct themselves on social media platforms. While most employees will conduct themselves in a responsible manner, it only takes one person to hurt your reputation. That's why you must be very clear when explaining what employees should and should not do.
It's also not just a matter of what to do but how to do it. You need to teach employees how to address people, what kind of tone should be used to respond to problems, when to reach out to people, etc. It's important to present them with multiple scenarios on how to engage with your audience so that your team really understands how to communicate on social media. Providing basic guidelines are often not enough. This Forbes article points out how some brands are integrating social media training.
Tip #2: Rally Your Social Media Team Around Your Brand
Social media is a great medium for branding. That's why it's important for your social media team to be knowledgeable about your brand. Do they know the core message behind your brand? Do they understand what your brand stands for? Do they know what makes your brand unique? Your goal should be to get them to be able to answer all of these questions without batting an eye.
To expand on that, you'll also need to figure out how to integrate your brand into social engagement. For example, let's say your brand is customer-centric and one of the unique selling points is free shipping on return orders. You want to make sure that point is brought up if somebody on your social media team is responding to a customer that wants to return an order. This allows you to display one of your brand's unique selling points in front of your target audience.
Tip #3: Help Your Team Define and Identify the Target Audience
If you don't know who your audience is, social media will end up being a complete waste of time. You need to get your team to understand the people you are trying to target. You need to go beyond specifying what kinds of people to talk to and interact with. You also need your team to understand the psychology behind this audience so that your team can communicate with them effectively.
There also may be an audience that is being overlooked or an audience you haven't tapped into yet. This is why it's important for your social media team to keep their focus on the conversations that are happening and dig deeper to identify a new audience you were not aware of.
Tip #4: Teach Them How to Market on Social Media
Social media isn't just about sitting back and waiting for things to happen. You need to push out great content, create engagement, capitalize on trends, and build marketing campaigns. Doing this requires a whole set of entirely different skills from the technical aspects of using social media like posting, uploading, retweeting, etc.
In order to give your team these skills, you'll need to provide them with proper training. While you may think that it will cost a lot of money and a lot of time for your team to learn the necessary skills, that's not always the case. This article by the New York Times explains how quickly employees are learning the necessary social media skills, given the proper training.
These four tips will give you a head start over most companies that are trying to find success with social media. If your employees are fairly inexperienced with social media, you can hire a training company to quickly get them up to speed. You may be surprised at how quickly your employees acquire the skills to not only survive on social media, but thrive in the medium.
Note from InSync Team: With social learning on the rise, designated social media training can also support future learning program methodologies, and the internal marketing of these programs to future learners.