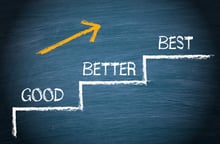 Virtually There Session Recap
"How many of you have a dynamic learning performance ecosystem in place today?"
Expert Gary Wise kicked off his recent Virtually There session with this thought-provoking question.
Most organizations have a learning ecosystem that attempts to change based on business and learner needs. The modern learning landscape requires some level of training content adaptability and personalization.
But, during Gary's event, we learned that ensuring this ecosystem meets the needs of our audience and stakeholders demands a purposeful approach. Over the course of an hour, Gary shared his proven model for ensuring training functions move from order taker to business partner. Follow a number of key recommendations when making this future-focused transition for optimal results!
Understand the balance of your ecosystem. You can't fix what you don't understand, and this includes corporate learning ecosystems. Ecosystems often focus on the point-of-entry, which focuses on formal learning or training events. L&D professionals excel at creating structured programs and planned content. But, unfortunately, Gary cited studies that showed in "the course of 2,000 hour work year, 2.3% or roughly 46 hours of formal training takes place." Many companies invest so much money in so little training! Most impactfully, point-of-entry can only create potential. Learners have new skills and knowledge, but they haven't used it to create anything yet. A well-balanced ecosystem focuses on those efforts that generate business value, and, in Gary's experience, that happens in point-of-work efforts. Point-of-work takes up over 97% of time spent in organizations every year and includes the actual workflow of our employees. Review your ecosystem and figure out where your team focuses their efforts.


Change the conversation. Gary shared a story that resonated with our team and his Virtually There learners. It revolved around a Marketing SVP coming to Gary and asking his team for an overhaul of the entire marketing training program. Rather than take the order at face value, Gary did some thoughtful digging and discovered the root of the problems the SVP wanted to solve with training. Hint: they were not problems training could solve. BUT, they were problems that an optimized dynamic learning performance ecosystem could contribute to solving. Gary's story demonstrated the importance of the dialog between learning leaders and organizational stakeholders. By shifting the conversation from clarifying project parameters to "let's explore whether a training solution best solves your pain points," the ecosystem becomes more optimized.
Evaluate your assessment approach. Balancing the learning performance ecosystem towards a greater focus on the point-of-work will ultimately require a more nuanced needs assessment. Gary detailed the Point-of-Work Assessment model he leverages in his work as a learning performance strategist. Separate from the Training Needs Assessment used by instructional designers, this process considers six discrete attribute clusters, including the environment, people, content, and more. While it requires additional work on the part of the learning team, this assessment approach guarantees a holistic solution. It also helps drive the new conversations L&D has with decision makers by methodically reviewing key areas that may contribute to the problem in question. Incorporating the Point-of-Work Assessment into your processes grows your performance ecosystem into one that considers factors outside the traditional "training" environment.


Learn to love the Five Moments of Learner Need. The InSync Training team swears by Gottfredson and Mosher's Moments of Need framework, and so does Gary Wise! Optimized ecosystems incorporate intentional instructional design, and in Gary's experience, intentional design depends on addressing all five moments of need. Learners don't need access to content only when learning something new or getting more information. They also need support from trusted organizational resources and events when applying knowledge, solving a problem on-the-job, or when processes or information changes. Optimized ecosystems provide well-designed, accurate content during formal training and within the workflow. Designing around the five moments of need helps learning departments accomplish this goal.
These four recommendations scratch the surface of the wisdom Gary shared during his event. To learn more and to better equip your organization by providing an optimized learning performance ecosystem, watch his entire Virtually There session replay or download the associated complimentary infographic.