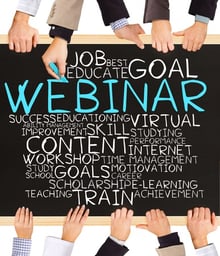 When we introduce a new topic, we often start with a webinar. The ubiquitous technology and common virtual classroom delivery format seems to be an easy way to engage, and teach, a large audience in a short time.
We know the webinar format has its challenges. Generally, potential learners enroll with the best intentions of attending, but understand that a recording will be available if there is a scheduling conflict. Many of us have an email folder containing link after link after link of webinar recordings that we hope to watch one day, when we have the time.
And when learners do attend a live session, they automatically put themselves into a "listen only" mindset; intending to multitask their way through the session with the hope that they will pick up the important points. They don't have an expectation that they need to participate to absorb the content.
No wonder so many people don't look forward to their next webinar experience. Especially when the only preliminary exposure to the content or the speaker is a one paragraph introduction to the session.
It would be better for everyone if we could start to build a relationship with our potential learners much earlier in the process. By strategically providing microlearning that introduces the larger concept, we can make the webinar experience much more worthwhile for everyone involved.
This microlearning is linked together into a suggested learning path, but is also useful as stand-alone pieces. It motivates learners to seek out more information, and encourages them to use you as the source of that information. Let's look at potential learning path that leads to a webinar.
Tip 1: Introduce content using a video.
Record a short, informal video introducing your topic. In the video, provide one actionable step or useful piece of content that viewers can put to work right away. For example, if I was discussing blended learning instructional design, my video would focus on the very salient point that a lack of instructional design in a blended learning program is much more obvious than a lack of design is in a face-to-face program. Conclude the video by letting learners know what other resources you can provide on this topic, and encourage them to learn more.
This video begins to build rapport between you and your learning audience. They can make an early decision about whether a larger investment of time in the content area is worthwhile to them. Whatever the design, you've started to build a relationship and establish yourself as a trusted partner in learning, a cornerstone of modern workplace learning principles.
Tip 2: Create a tool that is immediately useful.
The video established yourself as a potential resource. Some kind of tool, like an infographic or job aid, helps to solve a problem. To return to the blended learning instructional design example, a job aid that allows users to document learning objectives and map them to the most appropriate delivery technologies is something that they could use right away, perhaps without much additional instruction. By providing something useful, you've encouraged your learners to make you an important part of their personal learning network.
Tip 3: Write a blog article that summarizes the content you will discuss in your webinar.
Writing a blog article isn't as hard as it sounds. You have to create the content anyway. You've got that big webinar coming up! Identify your top three or five points for the session, and introduce those points by explaining why each is important. Provide links to learn more. Build on what you discussed in your video and shared in your infographic or other learning tool. But don't repeat what they could have learned earlier – build on those concepts. Conclude with a compelling reason for readers to invest an hour in your live webinar. Some learners will decide that they've learned enough about this topic, and they don't need to invest another hour learning more. And that's great. Different learners have different requirements. If this introduction is all they needed, you've helped them save time. They will thank you for that. Remember, if we are going to be a partner to our learners, it means providing what they need in their personal moment of need.
Tip 4: Deliver an interactive webinar.
At this point, your webinar audience will likely be made up of better informed learners that were motivated by the content they have already consumed. You will not be required to lecture as much; instead you can incorporate the microlearning and use it as a basis for interaction and conversation. You can set the stage for this interaction by publishing several conversation starters ahead of time, and/or introducing them at the beginning of the webinar. Then, after perhaps 40 minutes of content interspersed with verbal, chat, and whiteboard discussions, you can bring up the conversation starters to stimulate a more in-depth exploration of the topic. Because you have a more informed audience, you can expect more engagement.
Tip 5: Invite webinar participants to become involved in your personal learning network (PLN).
You have resources that you check on a regular basis; a Flipboard magazine, a learning community, and blogs written by experts in the field. Share the two or three resources that are most relevant to the topic, why you value them, and encourage people to engage with those resources immediately. Perhaps even leave five minutes at the end of your session for people to get that done. Then, use your organization's social collaborative tools to connect these learners to each other and to new content related to this topic.
By time releasing content in a thoughtful way, you are in effect leaving a trail of breadcrumbs for your learners to follow. At any point in the process, they can determine that they've had their fill.
As a bonus, the webinar experience becomes much more valuable because learners have made an educated decision to invest their time.
No matter where your learners stop on this learning path you have created for them, it was made with a thoughtful decision about how much content was enough content, and they will look to you as their partner in professional development.
Related Resources
Blog: Using Microlearning to Pull Learners to Your Content
Well-designed microlearning, like engaging virtual events, is a great option for any blended learning program. This blog post covers some of the ways that you can position microlearning resources, like infographics, blogs, and videos, to support ongoing learning.
Infographics: The Art of Design for the Virtual Classroom
Whether it's a standalone webinar or a multi-session live online training program, there's an art to designing effective virtual classroom events. Download this complimentary infographic for a handy step-by-step guide.
Webinar Recording: Integrating Social Media into the Virtual Classroom
My presentation for Training Magazine Network (TMN) covers how to best integrate social media into your virtual learning events. Social media provides formal and informal learning opportunities, and allows learners to engage with the content, even after the virtual session ends.