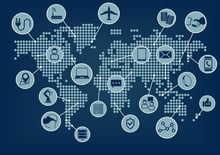 Have you ever been afraid to let learners go on a break, or end one virtual lesson in a multi-part series, for fear they won't come back? You're not alone. At one time or another all face-to-face and virtual facilitators have thought, "What if they don't come back?"
My answer to that is, "What if they do?"
What are you going to do to encourage learner engagement and keep participants interested during the live events? How do you keep learners happy and motivated during the time in between the live lessons?
Just like a good movie has one scene at the end that has you sitting on the edge of your seat, causing you to hope for a sequel, virtual learning should be designed the same way. We need to create that same intrigue for our learners before, during, and after each class. Whether it is a three week short course or a comprehensive seven week program, the key to success is getting the learners coming back for more.
In this blog I unveil how to connect the dots to ensure learners are staying engaged and connected during the duration of your live or self-paced course.
Set the Stage
Just like in any classroom, there are a few ground rules in place that encourage learners to be motivated to learn in the first place.
Setting expectations and requirements early in the process allows your learners prepare for the learning experience.
Once you set expectations, learners need to know what the learning path looks like in this new program. Providing a written syllabus can help you do this.
Next, get your learners invested in the program. Help participants drive their own learning by allowing them to inventory their own progress. Use their inventories to adjust your curriculum in ways that meet the needs of all learners. This is also an opportunity to direct individual learners to the class that best suits their personal learning needs.
After matching learner inventories to the correct classes, make connections. Before class even starts, the facilitator should personally connect with each learner. If relationships are established, trust will soon follow. Don't require learners to do much before the first live lesson, perhaps some short reading, just to peak interest.
Once in the live lesson, take that knowledge-based information and build on it through emotional connections and real life integration. Once integrated into real life, learners are able to apply that newly-acquired knowledge back on the job, or in case study learning via virtual classroom breakout room exercises, to ally with the knowledge-based information.
Connect the Dots
Fundamentally, the key to connecting all the dots as a facilitator is to remain connected throughout the entire learning experience, not just in the live session. Accomplish this by:
Developing knowledge:
Set expectations and requirements ahead of time.
Provide assignments through books, articles, blog posts and asking learners to display that knowledge in discussion posts.
Create personal learning pathways that allow learners to learn a certain skill at their own pace.
Assess the knowledge of a skill.
Creating the emotional connection:
Build relationships with learners from the start to establish trust.
Establish relevance of the skill to function.
Provide continuous encouragement throughout the entire experience.
Provide rewards and recognition.
Allow learners to share the use of that new skill – the impact it has made.
Integrating content into the learners' real world:
Provide perpetual dialog with learners.
Ask questions relating to the execution of the skill learned.
Build clear connections to the learners' work responsibilities into your content and facilitation approach.
Virtual application of skills:
Use the webcam to display application of the skill.
Use application sharing to share a screen while walking through steps in a process.
Use breakout rooms to collaborate on the execution of the learned skill.
As facilitators, if we learn to make connections to the dots of the course before, during, and after each lesson, learners will be encouraged to come back for more. Create a sense of urgency that drives the learners' desire to know more, and to do more with the content.
It goes back to the Chinese proverb:
"You give a poor man a fish and you feed him for a day. You teach him to fish and you give him an occupation that will feed him for a lifetime."
It is really the same in training and education. Learners need to be taught how to learn, the reason they should learn what we're teaching them, and the relevancy it has on their life. Once we outline those facts for our learners, we can guarantee they will come back for more opportunities to learn, connect, and apply.
Related Resources
Blog: Third Way to Evolve with the Modern Learning Culture: Foster Independence and Interdependence
Modern learners need a specific set of skills, but how do you know which ones they need to be successful? Jennifer Hofmann's blog explains why learning professionals need to encourage training participants to be both independent and interdependent.
Whitepaper: 101 Tips to Motivate the Virtual Learner
Most blended learning programs include virtual classroom elements. This whitepaper shares 101 tips for motivating participants and boosting learner engagement.