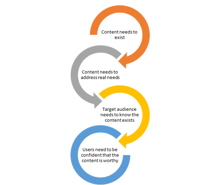 Now more than ever we live in perpetual learning environments. In every waking moment, we are taking in and processing information – learning perpetually.
Learning Experience Architects need to embrace this perpetual learning cycle, and consider it when designing blended learning campaigns. It's easy to influence formal learning that takes place in traditional classroom settings, in virtual classrooms, and via required eLearning. The "Push Training Culture" is something we have mastered.
But how do we influence the "Pull Learning Culture," and encourage learners to utilize content provided by Learning & Development?
Here's how: learners need to trust your Pull learning. They need to know it exists. It needs to address real needs. (We create so much stuff people don't use. They need to know the need.) They need to know it's there and worth their time. We need to start small, create the content, put it in the right place, make sure everyone knows it's there, and over time make people confident that it's worth their time.
Guiding Principles
These are anecdotal, but they're based on experience in implementing new treatments in traditional cultures.
Step 1: The content needs to exist (eLearning, microlearning– standard definition is up to 10 minutes to complete, videos that are 4 minutes or less). This is pretty obvious. We can't implement a culture of Pull Learning if the assets are not in place. That library needs to exist and it needs to be valid content. It needs to be tested. It needs to be engaging. It needs to follow all our instructional design standards.
Step 2: The content needs to address real needs. It doesn't just need to be there. And we can't just guess about what the needs are. There are ways to identify when people are going to get into trouble, when they'll call the help desk, when they'll need reinforcement. There are ways to do research: call the help desk and say, "What type of calls come in?" and build job aids to support them. Conduct follow-up to formal training. Get together in two months and see what isn't working well. Create tools to support those moments. We can figure out what the most common questions are. Track questions. Figure out what the real needs are and build content around that. In the traditional model, we build training because it seems like a good idea at the time. For example, if we created a two day training, and only had one and a half days of content, we started to add content in. Let's make sure it's on point and addresses needs
Step 3: The target audiences need to KNOW it exists. It's not enough to have the content in the right spot. One of the most grievous examples I can share is Microsoft training. Microsoft's suite of products, ever since they rolled out (Windows 3.1), they've had great help resources. They've had decision support tools. They've had on point electronic support. But instead of teaching people how to use the tools, we'd rather spend half a day to bring them together in a class to show them how to format a table. Why don't we incorporate the tools into the training? Teach them how to use the tools and then they have something to use in a moment of need. As much as you can pull things together and take all those microlearning pieces and make them part of macro-learning, the tools become reusable. It's not a participant guide that sits on a shelf and never gets used again.
Step 4: The users need to be confident it is worth their time. I think this is going to be the hardest part and the most difficult step in this change process. How are we going to impact the mindset of our learners so their first instinct is to access our learning resources/recommended learning resources in their personal moment of need? Why would they go to our resources instead of Googling it like they always have, or calling over their cubicle, or not learning at all? How do we get them to participate in the pull learning culture? This is going to be a big challenge over the next couple of years. The answer, I think, will be different for every organization. It's going to take some time. If we follow the first three steps (make sure the content exists, it addresses real needs, and the audience knows it exists and we teach them to use it), the confidence will start to build. We teach and reinforce the value of what we are contributing to the organization. We must acknowledge the fact that learners are out there getting content on their own. Our job in this new modern workplace learning culture is to make sure they have the tools they need to do their jobs, that the content is correct, that it's easy to use, and up to code. You have to make it interesting, relevant and accessible. It needs to be right on target.
Learning is happening everywhere, all the time. To stay relevant, we must build a relationship with our learners, and ensure they come to us.
Related Resources
Infographic: Engaging Modern Learners: When to Push and When to Pull
This complimentary infographic explains the difference between push training and pull learning. Gaining a fundamental understanding of these two concepts allows you to more easily design perpetual learning environments.
BYTE Session Recording: Overcoming the Forgetting Curve: New Content Creation Paradigms
Oded Ilan's BYTE session explains why a perpetual learning experience supports the way our modern learners remember (and forget) the content we teach them. It also provides advice on creating content in a way that addresses emerging neuroscience discoveries about memory.