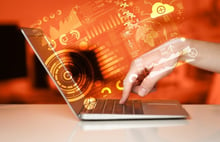 Can we possibly know what the future holds? I don't think we can, but we can certainly look to the horizon and consider what may be coming. We can use data, history, and recent trends to guide our forecasts. I am not a futurist, but I do see three distinct visions for the future of EdTech swirling around in the haze out there.

The Connected Future

The Internet of Things (IoT) is real. Our homes talk to our phones, and our watches talk to our refrigerators. Our objects (wearable and embedded) are talking to each other – collecting and exchanging data. Machines connected to machines, constantly passing information back and forth. The Gartner Group published a study back in 2015 which estimated that 20 billion devices would be connected to the Internet of Things by 2020. Will we lose our human touch here? I don't think so.

The Internet of Everything (IoE), as defined by Cisco, is the "the intelligent connection of people, process, data and things." I see the Internet of Everything defining the future, especially the future of learning. We will be connected to "things," but I am convinced that we will be connected to just as many people. Machine-to-machine connections will be prevalent, but I see people-to-people connections still being most integral to the learning function.

The Internet of Everything will enable extensive, diverse, global connections that will nourish and grow our learning ecosystems, and allow us to engage more easily and deeply with each other along our learning pathways.

The Seamless Future

What if you could really measure how engaged your learners are? I see future EdTech tools and technologies, powered by the Internet of Everything, enabling us to know more about how our learners are learning. What we know about how the brain works (now and in the future) will be better threaded into our learning design, development, and delivery solutions.

Here is one future scenario posited by Deliotte in their Gov2020 report:

Neurosensors could provide insight into students' cognitive activity using EEG technology that measures the rate of brain waves like one might measure a pulse. Identifying which students are expending a higher amount of cognitive energy on an exercise would allow teachers to dedicate attention to students who need it – not just those who ask for help the loudest.

Science fiction is fast becoming common practice. I see lifelong learning evolving to be the central focus of the Internet of Everything, where learning will become more seamlessly integrated into our work and our lives.

In the future, moments of learner need will be continuous, and seamless integration of learning resources (including humans) will be a reality. Our role is to help guide this future – to help stitch together this fabric of learning across the Internet of Everything.

The Accessible Future

When we talk about technology, we often forget about inclusion, affordability, and access. There are so many barriers to learner access that we neglect to take into consideration when we are designing, developing, and delivering modern blended learning solutions. The Internet of Everything needs to be accessible in order for it to be viable and scalable.

I see learning becoming more accessible through advancements in technology, coupled with universal design principles and the Internet of Everything. Universal design principles are guiding the development of new tools and technologies. These principles focus on the why, what, and how of learning and ways to optimize solutions to meet the needs of all learners.

I will ALWAYS include the human element in any technological advancement (especially in EdTech), but I do think that accessibility is the one area where EdTech tools and technologies will evolve specifically to meet the needs of our learners – at low (or no) cost.

The Bottom Line

Although I can't possibly know what the future will hold, I will always believe that what matters MOST is that we need to be using our technology tools and applications to meet the needs of our learners, and to reach desired blended learning outcomes. And, within this process, we need to focus on creating excellent learning experiences and sustaining vibrant learning communities.

What will the future hold? Lifelong learning.

Connected, seamless, and accessible.

Related Resources

FAQ: Internet of Everything
This FAQ is a quick reference related to all things Internet of Things! Review it for a basic understanding, or a good refresher.

Blog: The Internet of Things' Impact on eLearning
This blog post provides a great introduction to the Internet of Things (IoT) and helps you understand its impact on education and our daily lives.

Blog: Can the Internet of Things Make Education More Student-Focused?
We all want to design learner-centered programs. Can the Internet of Things help us accomplish that lofty goal?

Framework: Universal Design for Learning
How do you improve learning in the future for all learners? The Universal Design for Learning model attempts to do so using customizable instructional goals, assessments, methods, and materials.

Report: Can the Internet of Everything Bring Back the High-Growth Economy?
Read this in-depth report for a more comprehensive understanding of the Internet of Everything on the economy, and the way it works. The workplace defines our learners, and ultimately determines the learning we design to support their success.