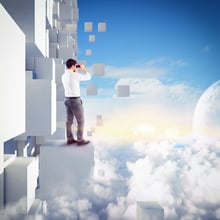 When we think of self-paced training content, eLearning modules often come to mind. Even with the development of "choose-your-own-adventure" content and the inclusion of bells-and-whistles, eLearning can fail to resonate with modern learners.
This narrow view of self-paced learning hinders our creativity and limits the success of our learners. What if, instead, we elevated self-paced content to better bolster our blended training? Recently, when our team worked on a self-paced instructional design project for a client, we made five surprising discoveries about this training option.
1. We can think beyond eLearning modules.
eLearning provides a helpful solution for some learning objectives, absolutely. But, thinking about how people learn in their day-to-day lives got us thinking - what resources do we instinctively turn to? The answers flooded in from our team: podcasts, videos, internet articles. Blended learning encourages authenticity of treatment and recognizes that not everything needs a formal training event or assessment to count as "real learning." Combining these two visions empowered our team to creatively consider a variety of learning asset options. We elevated the effectiveness of the featured eLearning modules by supporting them with authentic resources accessible at the learners' discretion.
2. Like all instructional design options, planning makes all the difference.
Identifying the resources that would most advantageously help learners build the desired skills proved an important first step in the learning campaign development process. But simply dumping the resources into our learning platform would not work. We thought through what our learners would need to use the resources conscientiously. A few things became mission-critical:
Guiding questions – These learning-objectives-flipped-into-inquiries help learners know what learning problems the associated content would answer.
Resource type and title – With a catalog of assets at their disposal, we created a category system to help learners easily recognize and identify the basics about each asset.
Order and time frame – The name and category of each asset did not provide learners with enough information. Specifying the projected amount of time to review each asset and recommending a particular access order reinforced the support given by guiding questions.
Joining these elements together in an easy-to-follow campaign map gives learners a visual guide for following their personal learning pathway.
3. Try leveraging a learning mentality of reduce, reuse, recycle.
Many great learning assets often have a one-and-done shelf life. Instructional designers create documentation and job aids to support formal learning events that never get used again. Honestly, it can feel like a waste of valuable resources. Creating self-paced learning campaigns allow us to find new uses for those existing resources. Making updates to the information included in existing learning assets cuts down on the instructional design process while ensuring they feature the most up-to-date and relevant details. This process increases the value of the content teams have already invested time and energy creating.
4. Content gets much needed context.
Learners may dislike traditional self-paced exercises for many reasons. Commonly, trainers hear feedback like, "I didn't understand why I was spending time doing this." We translated that frustration to mean, "The content lacked context." Since self-guided learning inherently lacks facilitation, how else can learners gain insight into the value of our eLearning and on-demand resources? Self-paced campaigns rely on providing context through curation. For example, the guiding questions in each phase of a campaign highlights the pain points the learning assets will solve. Combine that with a short, well-written introduction for each resource that explains its place in the larger learning puzzle, and learners have the context necessary to feel confident in the process.
5. Self-paced can mean self-awareness.
Adult Learning Theory centers on honoring learner experience and autonomy. Organizations fundamentally want learners to engage in the training process and invest in their professional development. Self-paced learning campaigns encourage both. Learners can use their own needs to dictate the learning process. Being able to select the resources that answer the questions they need to answer to do their jobs changes how learners perceive the experience. They pick what they need, knowing how long it will take to finish, and move on to the next project on their agenda. Quickly, they feel like it's a personalized experience that allows them to use their limited time wisely. Throw in the added benefit of contextualized assets, and the self-paced learning process builds learner skill AND self-awareness.
These five discoveries just scratch the surface of the on-demand, self-guided learning option. Whether for a stand-alone program or as part of a larger blend, self-paced learning campaigns offer flexible skill building.