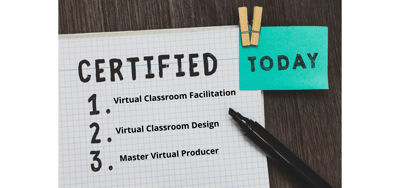 Since March of 2020, learning and development teams have been rushing to move their face-to-face content to virtual platforms like Zoom, Webex, MS Teams, and Adobe Connect.
At first, this wholesale conversion to virtual was a stop gap measure. The focus was getting the content online temporarily - just for the few months while we were working at home. But a few months turned into a year and a half! As corporations are contemplating bringing workers back into the office (or not), they are also considering what role virtual classrooms will play in their long-term learning strategy. (Spoiler – InSync's clients tell us virtual training will continue to play a much bigger role than it did pre-pandemic!)
Now that the rush is over, the focus needs to shift from quantity of content delivered to quality of content delivered. To increase quality, we need to make a formal training plan available for all members of our training team: facilitators, instructional designers, and virtual classroom producers.
Here's why:
Developing virtual classroom expertise is more than learning the technology. So often, the training we get for supporting the virtual classroom consists of four things: loading slides, creating polls, muting the audience, and turning on the video. This is not a recipe for an engaging learning experience and does not encourage learning transfer. Facilitators need to be able to engage learners environmentally, intellectually, and emotionally. Designers need to be able to create rich experiences that rival a traditional classroom. And producers need to be able to advocate for the learner and support the facilitator in more ways than just supporting technology.
Your learners deserve more than a webinar. Nothing demotivates a learner more than listening on mute for an hour, or a day, or a week! Learning needs to be active, immersive, and intellectually stimulating. The training team needs to know how to make learners WANT to come back to learn more.
You don't know what you don't know. After nearly 18 months of virtual training, training managers and the rest of the team might feel like they have learned all they needed through the trenches. However, the nuances of how to ask questions in order to get responses, how a producer can partner with a facilitator to maximize results, or how to design for different instructional strategies, techniques or technologies require an investment in personal development.
If you are a Training Manager, your internal and external clients will expect that your team has the skills they need to ensure business goals are met. Investments in professional development result in credibility with your clients. We care enough to train the rest of the organization – we NEED to care enough to develop our own skills.
If you love the L&D field, you need to add virtual classroom expertise to your skill set. No matter your role on the team, you need to embrace virtual training as part of your future. The pandemic just accelerated the trend that was happening in our industry already. As the workforce becomes more global, virtual, and mobile, the expectation will be that training will be delivered in a way that meets the needs of a diverse organization.
So - what's your next step? Invest in a hands-on, evaluated experience with personalized coaching and practice opportunities, for yourself or for your team. And earn IACET CEUs!
While you are waiting for a class to begin, download: Virtual Classroom Facilitation and Design FAQs
This infographic answers eight commonly asked questions about creating and delivering effective virtual classroom experiences, including:
What is the difference between a virtual presentation and a virtual training session?
How often should we engage participants?
How does video facilitate interaction?
What is the role of the producer?
.... and more!