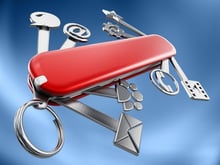 All instructional designers have a toolkit: a set of processes, applications, and approaches they use to create modern learning programs. High-tech, low-tech, paid, or free, they rely on a myriad of sources to design training that sticks.
While toolkits may vary, many instructional designers face a common obstacle: communication. How do we make sure that our stakeholders and teams understand the design vision, execution plan, and associated benefits? More often than not, designers spend a majority of their time in meetings, talking about the nitty gritty details and the high-level overview of programs. Every element discussed and revisited. Designers, by default, can't extract themselves from their work.
Phylise Banner, Learning Experience Architect, discovered Learning Environment Modeling Language, and it changed her career. In fact, she said:
"For 25 years, I had to use conversations to move a design from idea, to prototype to reality. This model made a difference in how I've worked through projects I've designed all these years."
During a recent Virtually There session, Phylise shared her love of Learning Environment Modeling Language and introduced its main components. This blog details how she incorporates the model into her existing instructional design process.
Five Step Design Approach
Fundamentally, this approach leverages backwards design. We start from the goals and objectives, which serve as our design's endpoint, and work backwards from there. Phylise explains:
"With Learning Environment Modeling Language, we start with evidence, since that's what's tied to a goal. Think then about how learners demonstrate accomplishing that objective."
Step 1: Add evidence. For example, maybe the goal of your program is that learners will know how to change a car tire. Evidence is the demonstrable way learners convey they've reached the goal.
Step 2: Add other building blocks. Continuing the car tire example, you may start with conversation. Why do learners have to know how to change a car tire? You can also incorporate process steps in an animation, tools they'll need, an activity like an interactive simulation (where they change the tire in the screen), and embedded feedback from system and instructor.
Step 3: Add contexts. Still teaching learners how to change a car tire? Each available context (classroom, online synchronous, online asynchronous, and experiential) provide a different learning experience. Online, for instance, designers know they can include information, interaction, and feedback in that context. But, ultimately, we want them to come into a class to change the tire. Contexts give us the opportunity to see what steps stakeholders will have to take, like renting a classroom space, to support that objective.
Step 4: Add actions. Ask, "what action will the learner, facilitator, and system take as we progress through all the building blocks?" In the tire change training, Phylise, "sees student going through all building blocks, the instructor giving feedback in live space, and system giving feedback, too."
Step 5: Add notations. Notations indicate the start and end points of each learning objective. When you get to this step in your design process, simply indicate where each objective begins and wraps up.
Combining these five steps with the four elements of Learning Environment Modeling Language has helped Phylise Banner remove communication barriers from her instructional design process.
Do you have a favorite tip or trick that's changed the way you design or facilitate modern learning? Share it in the comments below!