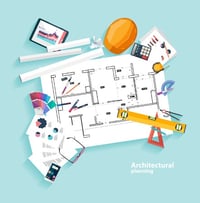 How are you handling all of the changes in the new Learning and Development landscape?
If you're like me, you're realizing that having a narrow professional focus isn't an option anymore. Instead, you're broadening your approach in order to stay current. You are curating content, participating in learning communities, and learning to build content using new edtech. It's definitely not the job you signed up for, is it?
It's time to reimagine your role.
The Modern Classroom
Thanks to the introduction of new methodologies and technologies to our toolkits, the time for specialization has passed. Today, everything in learning is blended. Experiences aren't standalone anymore. Formal learning now includes in-person events that have supportive eLearning modules and virtual classroom training sessions. And don't forget: these blended learning experiences also include informal learning.
Furthermore, we can't overlook less traditional learning approaches like microlearning. Stakeholders and learners expect us to leverage new techniques and technologies, so that their learning experiences are both personalized and unique.
This ongoing classroom evolution has been a messy process. Virtualization has opened the door for learning to take place anywhere, in many ways, at almost any time. Even seasoned L&D professionals struggle to define the different pieces of a blend. Since we're supposed to be experts in all aspects of modern learning, this is an obvious problem.
The Learning Experience Architect: A New Profession
As training professionals today, we are masters of all traditional learning roles including developer, facilitator, and designer. Combine this with the expectation that we are also producers, moderators, curators, and learner advocates, and it becomes clear that our jobs are not only important, but complicated.
Our ultimate responsibility is to provide the correct content, to the correct audience, at the appropriate time. Given how many of us came to learning via other professions, this is a herculean task.
In light of these roles, I am adopting/advocating a new title to best represent the professional responsible for workplace learning: "Learning Experience Architect."
I first heard this term in a blog post by Joyce Seitzinger, and it really resonated. Learning Experience Architects constantly improve the learning experience through design and implementation, all while balancing the demands of the business with modern learners' needs.
While using a new title doesn't automatically encompass all of the skills required to be successful, it is an important first step.
Realistically, we can't be experts at everything. Instead, we need two things.
First, we need to have access to the knowledge that will allow us to feel competent while discussing the options available to us. Second, we need opportunities to practice the skills we may have to use at any time.
These two needs require us to identify our own personal learning paths. As we discussed last week, designing your personal learning path requires the same design approach as designing learning campaigns for your clients. Your Personal Learning Network will help you navigate your plan, since it's likely all the resources you need won't be available through your organization.
You'll need to develop competence in a few areas in order to create the role of Learning Experience Architect and to establish credibility as an expert in modern learning:
The Business of Learning: We need to balance the requirements of the business with the needs of our learners. Doing so enables us to become valued business advisors who can address important issues such as the ROI of training, measurement and evaluation, project planning, and organizational needs.


Technology and Techniques: Determining whether techniques like simulations or social collaboration are good for our audience can be a struggle for even seasoned learning professionals. It's typical to inconsistently apply new techniques like gamification, and then discard them for the next "big thing." You'll need to be fluent in the language of modern learning in order to be successful.


Collaboration: Today's learners are more connected than ever before through social media and their mobile devices. We need to strategically implement collaboration into our blended learning designs. The feature needs to be valued by the learners. Begin by making connections, and participating in communities of practice. Continue the process by engaging actively with your Personal Learning Network. Immersing yourself in collaborative experiences will help you make informed recommendations to your learners.


Educational Technology Trends: When it comes to new learning trends, knowing what's "now" is just half the battle. If you know "what's next," too, you'll establish yourself as a partner to the business, and make sure that working and learning are never far apart.
It's important to remember that you're a modern learner, too. Reflect on your experience while you work towards becoming a Learning Experience Architect. It's very likely that your learning needs align with those of your learners. Use that to your advantage.
Re-imaging your role helps you stay on the cutting edge of our profession, and establishes you as a valuable asset to your organization.
Related resources:
Book: Anders Ericsson and Robert Pool book, Peak: Secrets from the New Science of Expertise encourages their readers to dream big and challenges them to reach for excellence. Whether you want to stand out at work, or help your kid achieve academic goals, Ericsson's revolutionary methods will show you how to master nearly anything. Peak offers invaluable, often counterintuitive, advice on setting goals, getting feedback, identifying patterns, and motivating yourself.
Recording: The Learning Experience Architect: The Hub of Modern Blended Learning. Jennifer Hofmann discusses the needs of the modern Learning Experience Architect, and how a personal set of resources that you can incorporate into your own Personal Learning Network can be a valuable tool for success.