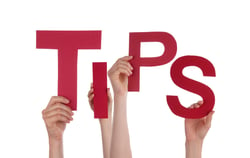 Whether presenting an informational webinar or facilitating a multi-part virtual learning series that's part of a larger blend, teaching live online requires pizzazz and purpose.
As more corporate L&D programs move online, a tried-and-true facilitation process can set you up for success (in fact, we offer a comprehensive train-the-trainer program to help practitioners create a comprehensive toolkit).
But small, seemingly simple updates to your instructional approach can change the game. InSync experts suggest:
Create a workspace designed for excellence. Think of the worst webinar you ever attended – what made it frustrating? We'd readily bet that background noise or distracting facilitator video contributed to a disappointing experience. As a facilitator, having a quiet professional workspace where you can facilitate without interruption sets you up for success from the start. If you know your training includes live "talking head" video, double check your camera angle, lighting, and backdrop before the session to ensure your video layout adds value.


Invest in reliable equipment. Fun fact: my first ever real job out of college required that I spend 10+ hours a week on the phone. It took me six full months to come up with the brilliant idea to buy a headset. I literally "held the phone" for hundreds of hours. Don't make the same mistake I did when you facilitate virtual classroom learning. Purchase a quality headset and microphone for good sound quality and hands-free teaching. Also invest in a computer system that can handle the rigors of running high-quality virtual classroom platforms.


Two computers are better than one. Did you know? InSync facilitators log-in to every session they host from two computers. No matter how high-powered their primary system, our facilitators also connect via a back-up machine. Not only does this practice offer a safety net if their primary computer crashes, reboots, or freezes, but it also provides a trouble-shooting center. You can see if audiovisual issues are widespread, or only impacting one or two participants. Plus, it helps you keep the training on track because there's no one-point-of-facilitator system failure.


Wired > Wi-Fi. In recent years, Wi-Fi internet has become the norm. Providers improved speed and reliability in most service areas. But, when facilitating in the virtual classroom, our facilitators prefer wired internet connections for improved stability. If your Wi-Fi drops or cannot handle the platform functionality (like video streaming or application sharing), you run the risk of a "laggy" learning event. If you can't access wired internet, use a hotspot as a backup plan for dropped WiFi (even Jennifer Hofmann has used this in the case of storm-meets-industry-webinar).


Plan for a warm up. InSync Facilitator Sorelle D. believes starting a session with a warm up activity sets great sessions apart from mediocre ones. The first five minutes of a training event often includes late learner arrivals and boring housekeeping spiels. Jazz up the intro with an icebreaker activity that engages learners and familiarizes them with the tools they'll need to access during the training. It not only puts the group at ease with the technology, but also establishes participation and engagement expectations in an authentic way.


Humanize the experience. We talk a lot about the "body language in the bandwidth." Reading the online room requires practice. But, fundamentally, facilitators just have to remember one thing: the virtual classroom includes human learners. Call participants by name. Directly address learners when you respond to their questions or comments. Keep their interest by asking them to engage with the content, platform, or each other every 3-5 minutes. Kathy P. advises you keep in mind that "not everyone likes to speak up. Use chat and whiteboard activities to include everyone." Keeping learners at the center of your approach improves the likelihood of high engagement and a positive training experience for all.
Making small adjustments to your current facilitation model can make a major difference in the outcomes of virtual and blended learning programs. Ready for more advanced advice? Join Jennifer Hofmann and Karen Vieth on June 20th for their complimentary Virtually There session, Creating Engagement in the Virtual Classroom: Advanced Facilitation Skills for the Experienced Training Professional.