BYTE Session Recap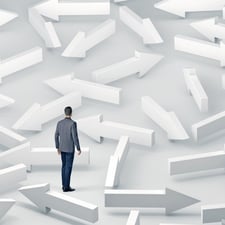 Over the past 200 years, training has been moving in the wrong direction. Our approach to training and education no longer supports how learners work. Guest BYTE speaker Martyn Lewis explored a modern solution to an old-school problem.
Read more for Martyn's definition of our learning struggles, how to get started with blended training, and the seven keys to a successful learning and development approach.
Watch Martyn's BYTE recording for a discussion of learning through the ages, moving away from the physical classroom, the 7C approach to blended learning and a case study. Click here for the recording.
Modern Learning: What's the Deal?
In the last 20 years, the world became an entirely new place. Martyn shares,
"We've seen technology disrupt just about everything in our entire lives. We're mobile. We're untethered. We can communicate with people and get information at our fingertips. We can do that any time of the day and integrate it into our overall lives."
The disconnect between the reality of how we work and the traditional way we learn becomes clear when we examine the classroom.
Still considered the gold standard by many, classroom training events limit learning success. To benefit from the content, learners leave their daily workspaces, and attend one-shot events. The content presentation and facilitation approach, Martyn believes, "...doesn't stack up against the rest of our lives."
How do you mitigate this disparity? Blended training.
Move Learning Forward
The InSync Team defines blended learning as, "A series of content blocks that are sequenced to create modern learning experiences. Typically, this is a managed, trackable curriculum with a beginning and end. To accomplish this, learning objectives are matched to the most appropriate delivery medium and learning environment."
To begin transforming our existing programs into a blended model, Martyn says, "The first thing you're going to do is shred, trash, or burn what you did in the traditional classroom. It's not the starting point. Neither is the physical classroom the benchmark we should look to."
Modern Blended Learning: 7 Keys
Understanding blended learning conceptually and agreeing to begin a new modern instructional design process, starts moving your learning in the modern direction. Martyn encourages us to consider the seven keys to blended training success.
Start with a deep understanding.
Effective learning understands the learners and the content. Ask probing questions about both to define them in the context of your program. Examples of the questions Martyn asks include: Who are our learners? What's important to them? What is the content? Why does the audience need it? Get down into the details to get your program on target.
Think small chunks.
Ideally, blended learning includes small bite-sized content pieces. For reference, Martyn transforms a two-day instructor-led classroom program into 70-80 chunked modules. Note: This is a difficult, time consuming process initially. But it's a hugely valuable exercise.
Move from event to journey.
Shift your mindset from "training event" to "learning journey." No longer will learners attend stand-alone classroom events. Instead, create a cohesive journey of many learning opportunities. Use your chunked content in various, appropriate learning environments.
Blend in application.
The key to blended learning is doing. Design opportunities for learners to practice the skills taught in your learning chunks. As Martyn, quoting Leonardo DaVinci, affirms, "Knowing is not enough; we must apply." Application of skills reinforces them for learners and enables them to apply them easily back on the job.
One size does not fit all.
Martyn urges us to remember, "People learn in different ways and for different training, different ways are best." Once you've chunked your training, decide which delivery method is most authentic for each module and resource.
If it doesn't need to be live, don't make it live.
Your learners' time is valuable. Don't bring them into a live event, either online or in-classroom, for information transfer. Live learning is for "collaboration, shared experience, discussion, immediate discourse, social interaction, and ah-ha's."
Learner engagement
According to Martyn, "Interactivity does not equal engagement. Engagement comes from perception of value." For modern blended learning to work, define the value of each chunk, their delivery methods, and timing to your learners. Remember: not all learners will engage with all content. Supporting learner autonomy is part of a blended approach.
Additional Resources