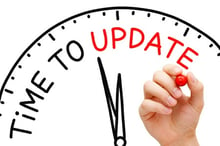 It's very exciting to learn about and invest in the latest trends in educational technology. Who among us hasn't been swept up by the allure of gamification, the promise of curation, and a desire to embed microlearning at every conceivable moment of learning need?
No matter how enticing these new ideas might be, we are always (rightly) concerned about adoption. If we don't implement well, these new technologies and instructional strategies will seem like just the latest trend, easily ignored while we all default to our normal, familiar learning mode: instructor-led.
And, people are generally happy with that. We know how to learn in a classroom. We know how to teach in a classroom.
It takes a modern learning culture to support modern educational technologies and instructional techniques. Unfortunately, many organizations are living in the past. While training success doesn't depend on deploying the latest trends, and outdated learning culture can hinder employee, program, and organizational success.
Symptoms of an "Old-School" Learning Culture
Modern learners have high expectations. Immediate access to information defines their day-to-day experience. They adapt quickly, efficiently, and eagerly to new digital tools, both on and off the job. While organizations continue to heavily invest in face-to-face classroom-style training, we fail to honor the modern learning experience and risk alienating our audience and reducing the power of our programs.
Here are some signs your learning culture is out of date.
Learners have no say about what training they participate in. I

nstead, the L&D function dictates all

requirements.

A modern learning culture requires that individuals influence and help create personalized learning paths. Training requirements are no longer a one-size-fits-all solution; depending on pre-existing skills and job requirements, individuals may have vastly different training needs. By allowing a personalized approach, learners are much more engaged in the process and therefore more successful.


The LMS sets the schedule, and training ends when the LMS says so.

When you "close the book" on a learning experience by awarding a badge and "closing the course," you are in effect discouraging, or perhaps even preventing, learners to access content while they are

on

the job. Learning is perpetual and the goal of a modern training program should be ensure individuals are able to use tools, job aids, and other content while doing their real work.


Everyone focuses on the live event. The business, learning department, and learners think formal training is the end-all-be-all.

Trainers and learners alike are guilty of focusing on the most live component of any training curriculum. Self-directed work like eLearning and videos are practically considered optional, and

important content is always addressed during the live session. Modern learning requires that all parts of a blended learning implementation be an important part of the learning path; and if they're not, we shouldn't bother including them at all.


Learners dread training – formal and informal.

If the content is not immediately relevant, if it's difficult to access, or if the delivery is too intrusive on an individual's work schedule or personal time, training will become viewed as something that needs to be checked off a list rather than an opportunity to improve performance. Formal content needs to be less about lecture, and more about teaching individuals how to access and utilize content while on the job.


Trainers create all the content, and learners don't contribute their insights.

Organizations need to be open to the fact that most of our expertise lies in the individuals doing the job. We need to capture that expertise, incorporate it into our training programs, and create opportunities for learners to improve the content and share their personal best practices. We don't need to be the experts all the time.


Managers don't participate in the evaluation process.

Let's face it, an infographic or an eLearning program isn't going to be able to ascertain whether a learner has the skills to do a job. The best way to evaluate knowledge and skill transfer is by involving the learners' manager in the process. Formal observation checklists, less formal coaching, and a variety of other methods can be used to ensure that what has been learned is

being

implemented in the workplace, long after the formal training event is over.
Updating Your Culture
Designing training that supports modern learning takes more planning than designing a course that is over when the learner is marked 'complete' in the LMS. And it is a change in how training is designed, developed, delivered, and maintained. Here are some tips to help bring your learning culture up to date:
Find the pain points in all the moments of learning need and ask people doing the job what they could have used in the

moment to solve the problem

.

Create discrete standalone resources that are part of a larger narrative.

Make the LMS and/

or learning platform part of the approach, not an afterthought. Use it during formal instruction so learners access content in the same way they will access it on the job.

Encourage communi

ties of learners to grow into communities of practice that encourage individuals to coach new members, curate content, and provide expertise to the larger communities.
Interested in learning more? Access the recording of my recent Virtually There session, Is Your Organization Ready for Modern Learning? Transform Your Learning Culture for Today's Environment.