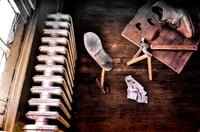 We keep saying that technology is just a tool, but what do we really mean? I have a full toolbox out in the garage, but I have to admit that I've used a shoe to hammer a nail into the wall on more than one occasion.
Are we using the right tools to design, develop, deliver, facilitate, produce, and curate learning? Or, are we using our shoes, staplers, or anything sturdy enough that we have on hand to get the job done?
In the end, does it really matter?
The Right Tool for the Task at Hand
I would argue that what matters MOST is that we are using our technology tools (aka: EdTech) and applications to meet the needs of our learners, and to reach desired blended learning outcomes. And, within this process, we should always be focusing on how to create excellent learning experiences and sustain vibrant learning communities.
"Most" was the key word there. I think it certainly does matter that we use the right tool, or at least know what tools are available, what they do, what their limitations are, what other tools might be a better fit, and where we can find help when we need it.
Compartmentalizing Technology Tools and Apps
The tech tools and apps that we find in our learning industry toolboxes are typically used to either provide content, develop interaction, or perform assessment. Over the next few weeks we are going to break these areas down further, and dive deeper into these six technology toolbox compartments:
Knowledge and content

Communication and interaction

Social and community

Assessment and evaluation

Virtual reality and augmented reality

Curation
Knowledge and content: The materials that you create, curate and deliver for your learners to access fall into the category of knowledge and content. The types of tools we see in this toolbox compartment are the ones we use to create learning assets such as job aids, presentations, eLearning modules, screencasts, videos, audio recordings, infographics, course maps, and the like.
Communication and interaction: You will find the tools and apps you use to reach your learners via email, announcements, and any other outreach broadcast media in this toolbox compartment, along with discussion forum, chat, collaboration, and virtual meeting tools and apps. At the core of each of these tools is functionality that enables us to talk to each other and share.
Social and community: Some of the tools and apps you find here stretch across categories. We already use social media to share content, communicate, interact, and collaborate. We've created a compartment for these tools on purpose to specifically highlight their social and collaborative nature and functionality. Sometimes creating a community of practice or personal learning network is not a project goal or objective, but we know that putting one in place will certainly promote knowledge and skill acquisition in our learner's moments of need. These social and community tools and apps can help us do just that.
Assessment and evaluation: The tools that focus on quantifying or qualifying the impact of learning fall into this toolbox compartment. We use this array of tech tools and apps for tests, surveys, and assignments, as well as for determining the value of our learning initiatives. Adaptive learning is a hot topic these days, and the data and reporting tools that drive adaptive content are found in this area as well.
Virtual and augmented reality: These tools and apps enable us to create immersive learning experiences for our learners. Simulations have been around for a long time, but newer tools and apps enable us to engage our learners in immersive experiences on a much lower budget. What was once a highly segmented toolset is now available for us to explore and integrate into our toolboxes!
Curation: Curation tools allow us to reference and share resources we've found with our networks and in training programs. Using these apps, we are able to find appropriate industry resources, and easily share them with our learners, communities of practice, PLNs, and within purposefully curated channels.
Digging Deeper into the Toolbox
In the upcoming weeks, our Engaging Through Technology Thursdays will further explore each of these toolbox compartments, focusing on what tools and apps are available, and what they do – from the low end (free) to the high end (pricey). We'll talk about benefits, drawbacks, limitations, and how we can bend and even break (or fix) these tools to meet our needs and the needs of our learners. We'll highlight our "must-haves" and favorites, and recommend key features and future trends to keep your eyes on.
Together we can sort out if we are using the right tools to design, develop, deliver, facilitate, produce, and curate learning. And, if all else fails, we can always use a shoe.
Related resources:
Infographic: The Pedagogy Wheel
This graphic puts a new spin (pun intended) on Bloom's Taxonomy by associating technologies with the cognitive processes. Although it focuses mainly on mobile apps, keeping Bloom's Taxonomy (and your learning objectives) in mind can help you find the right tool.
Blog: Designing Blended Learning with Bloom's Digital Taxonomy. Even those of us who have become instructional designers without prior training in the field can create very effective programs by using this simple, yet powerful, framework.
Boost virtual learning's effectiveness by utilizing all platform functionality. Our Maximizing Virtual Classroom Technology workshops teach you how to use all of the available tools in Zoom, Webex, or Adobe Connect!