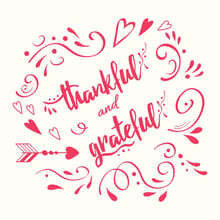 This week, most of us in the United States stop for a single day to eat turkey, watch a famous parade or a football game (or three), and give thanks for the things that make our lives great.
The general feeling of gratefulness got InSync Training's team thinking: what do we love most about our learning experiences?
When asked, our team of training experts openly and graciously shared the things that bring them joy and gratitude in the modern classroom every day.
Fantastic Facilitators
As the workplace and our classrooms evolve, facilitators continue to fearlessly lead us into the future. Their innovative engagement techniques, passion for content of all kinds, and willingness to share and demonstrate best practices all contribute to training that sticks.
Our team sings their praises, saying:
"I am thankful for facilitators willing to put themselves out there, teaching in a new way and willingly taking professional risks."
Facilitation in the blended classroom requires the wearing of many hats: instructor, technical guru, subject matter expert. And with composure and skill, they work to bring out the best in their learners.
Next-Level Learners
Every learning session brings together a unique cohort of learners. Sometimes, the group journeys together through complex, weeks-long training programs. Other times, they connect during a single informative webinar. Regardless of the length of time we spend with them, we benefit from their wisdom and interactions long after the event ends.
Instructional teams honor learner contributions, saying:
"I'm thankful when learners are not only really engaged in the chat but aren't afraid to speak up over the audio when asked!" – Klarrisa
"I am thankful when they arrive before the top of the hour, so we can start right on time." – Jennifer
"I am thankful when they are first time learners in the VC and say something like "WOW! I never expected this to be so engaging!" – Karin
So, to our diverse, global, and enthusiastic learners, thank you. Our modern blends would not be the same without you.
Proficient Producers
Learning now requires EdTech of some kind. Computers, virtual classroom platforms, eLearning modules, and learning portals rely on technology to deliver content to learners. Producers bridge the gap between learners and content, ensuring that the technology doesn't get in the way of impactful learning. And for their skills we are deeply grateful.
We appreciate all the ways they seamlessly coordinate all the moving parts of a live session, and the calm clarity they provide when things malfunction. As one InSyncer pointed out, "I'm thankful for their patience when the technology goes wrong." Shout out to you, producers. We will continue to crown you as modern classroom MVPs.
Dedicated Designers
Inspiration for training comes from many sources. The roll out of organizational initiatives, personal professional development, and new hire onboarding all present opportunities for the creation of L&D programs. Without creative instructional designers, corporate learning visions would not come to fruition, and they certainly wouldn't have all trappings modern learners expect.
We often hear learners comment, "I appreciate great design that keeps me engaged," or "I appreciate it when I'm participating in more than a webinar and the design respects my existing knowledge and my time."
Designers, thank you for thoughtfully considering many models and technologies and needs in all of your projects. Your imagination changes the workplace for the better by supporting more skilled and productive teams.
While these feelings come from a single L&D team, we believe they reflect the beauty of training today: a collaborative, connecting experience bringing our skills to the future!
If you have a special learning shout out, we would love to read them in the comments section.