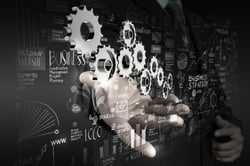 For any business project to be a success, it's important that all parties involved know their roles and responsibilities. Whether you're overseeing a small team or an international collaborative effort, as a project manager it's your duty to ensure that everyone under your chain of command understands their place within the company.
One way that project managers stay on top of task delegation is by utilizing a responsibility assignment matrix, also known as a linear responsibility chart or RACI model. These models offer a powerful organizational tool that helps to keep teams running smoothly and deliver quality results.
What is the RACI Model?
The RACI matrix model is a tool that managers can use to delegate responsibilities to different employees or departments involved in a certain project. It lays out expectations in a clear and concise manner, ensuring that everybody knows their role to prevent redundancy and avoid confusion. RACI is an acronym that stands for specific roles within a project:
● Responsible: must complete tasks either by getting work done or making certain decisions
● Accountable: ensure that those who are responsible complete a given task in a correct and timely fashion
● Consulted: provide expert advice and information to help improve the processes within a project
● Informed: kept up-to-date of the progress of a project and the potential effect its outcome will have
The RACI model encompasses all aspects of project management, from directing employees to appeasing investors. With clearly defined responsibilities, it's easier for everybody involved in a project to complete tasks on time and under budget.
Using a RACI Matrix to Stay Organized
Creating a RACI matrix is relatively simple and helps to keep everyone within a project organized and on the same page. You can put together a RACI matrix for any business project in just a few steps:
Identify and list all the tasks that must be completed. This will be the vertical axis of your chart.
Identify each project role that needs to be filled by an individual or department. This will be your horizontal axis.
In each resulting cell of your chart, list who will be responsible, accountable, consulted and informed about each task. No task should have more than one role accountable.
Discuss your RACI matrix with shareholders before the start of your project and fix any discrepancies.
RACI models make work assignment easy. By using organized matrix models, you can help to keep your employees on task and ensure that projects are completed to your exact specifications.