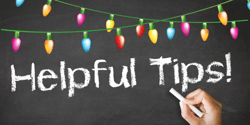 With the Thanksgiving dinner trimmings put away in the states, the busiest time of year begins to take on a life of its own.
With inboxes and fireplaces equally a-blaze, personal professional development and corporate training can wind up on the back burner. What can learners and learning leaders alike do to keep missed training opportunities from piling up like snowdrifts? How can you make your next blend more magical than the dance of the Sugar Plum Fairies?
A few thoughtful modern learning tips can guide you through the hectic holidays and into an insightful new year:
Take off your mittens and embrace microlearning. In the face of competing priorities, learning often (and understandably) falls to the bottom of the to-do list. But thanks to podcasts, YouTube, and blog posts, learning something new doesn't have to take a long time. Taking a moment to read an article while drinking your eggnog or listening to a podcast while shoveling snow offers a feeling of accomplishment. Don't worry if what you're learning doesn't relate directly to your job - perpetual professional development incorporates all of your goals, not just the professional ones.


Give yourself the gift of a personal learning pathway. Before we know it, we will be singing

Auld Lang Syne

and welcoming a new decade. And while New Year's resolutions don't always stick, chances of improvement go up when you have a plan. Spend a few hours in December mapping out what you want to achieve in the next year, and identifying what you'll need to learn to accomplish those goals. We refer to this roadmap as a personal learning pathway, and registering for training programs and workshops now allows you to reserve time on your calendar before it fills up. And, as InSyncer Lynette points out, designers should give their learners this gift, too. She reminds us, "When you create a blended learning experience make sure that you give people a road map so they know what all the parts are, how to navigate them, and can give themselves a star/check when they complete each step."


Make virtual instruction a party. In the virtual classroom, facilitators often have to manage sessions or an entire blend on their own. Just as Santa needed Rudolph, a virtual learning instructor needs a producer. Like the most helpful elves in the toy workshop, they anticipate problems, offer solutions, and keep the whole operation moving slowly. While planning 2020's training programs, now is the best time to advocate for using instructional partnerships in the coming year.


Think outside the classroom and the (gift) box. Training doesn't wrap up nicely with a bow at the end of a live event anymore. Learners expect and need tools and job aids to implement what they learned. Performance support strategies are necessarily becoming much more creative -- from Skype coaching to laminated 2'X4" job aids that hang on a key ring. Give workers exactly what they need to do their jobs to the best of their abilities. (Huge thanks to Karin for sharing this tip, it's brilliant!)


Unwrap the past year. As you look forward to a new year, take a look back. What did you learn that truly changed your skillset? Were there events or resources that wasted time rather than contributed to forward progress? If you manage the learning function or training programs, think through what generated real performance change in the organization. As wise InSyncer Jenn shared, "Just because you have always done it one way doesn't mean it is the best way now." Innovation, creativity, and adaptability - those are the cornerstones that light the way to better learning.
Whether big or small, any effort made now to build skills or plan for the future of modern learning is the final touch to a great year - the bow on top of the box, if you will!