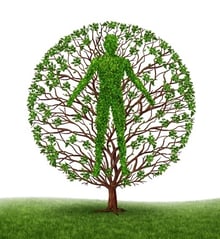 Part of InSync Training's Expert Interview Series
During the Association for Talent Development's 2016 International Conference and Exposition, I had the privilege of interviewing our friend in the industry, Courtney Vital. She shared her personal journey in training, and her opinions about the future of the learning and performance industry.
Who are you and what is your area of expertise?
My name is Courtney Vital, and I'm Chief Learning Officer at the Human Capital Institute. Previously, I was the Senior Director of Education for ATD (the Association for Talent Development). My entire career has focused on professional development and learning, and I couldn't imagine working in another field!
How did you get into the Learning and Development field?
I came into learning through my work in education at several professional organizations, including the U.S. Chamber of Commerce and of course ATD. It's been my passion and life's work to provide learning experiences that help people grow, develop their skills, and connect with colleagues, so they can be amazing at their jobs. Seeing how that can impact organizations in positive ways, by moving the needle and creating positive results, has been incredibly rewarding.
What trends do you feel are really defining L&D today?
In my opinion, a couple of things are really defining L&D today. At the macro level, in the world of work, what we do as talent development professionals is so important. Work has never been more complex. Creativity and innovation are daily requirements, and it's never been more critical to engage and collaborate to solve challenges and move forward. This is a huge shift in how we approach L&D. We build skills in our participants to do the technical parts of their jobs. But what's equally important is for the field to support individuals, teams, and organizations to create a culture that supports the climate of work. It's not about pushing out formal programs; it's about understanding the organization's goals and being everywhere you need to be. We equip, support, and drive our learners to be effective in their jobs.
At a more micro level, it's about the movement away from event-based learning. Now, it's about approaching the design process to create learning opportunities and pathways. Technology is integrated into everything we do and incredible solutions are available today that help us support engagement, drive application on the job, and give people what they need when they're actually doing the work.
For you, what is the value in attending conferences like ATD ICE?
Upon reflection, I realize that this is my twelfth consecutive ICE. I think every year, it's a great way to get a pulse of where the field is. I always leave here believing that the learning, connections, and insights I acquire here roll up to what's happening in the field. For me, where we are and where we need to go as an industry are defined at this conference. Plus, everyone gets an opportunity to rally behind that. For me, it's about the themes that rise to the surface. It's always great to see professional friends and colleagues. One of the things I love about the field is that it's so warm and community-oriented. It's a culture of supporting people as they grow and develop. We care about each other and learning, and ICE is a great opportunity to touch base on that, and to remember that what we do is so great, and that it is has never been more important.
What do you wish you have known before you joined the industry?
I wish I had known how deep the body of knowledge is for our profession. There is an extensive amount of information available on the science and practice of learning and development. If I had known these things earlier, I could've gotten started being a student of that so much earlier.
If you could share one thing with ICE attendees, and learning professionals in general, what would it be?
My advice to anyone in this field is to be hungry for this knowledge, and take all of it in. Get a strong grounding in the existing models and research so you can take that and get really creative in your own practice. It'll help you put a personal stamp on what you do within your organization, and to really support your learners. It's surprising coming into the field and seeing how much research and great content there is on how to do this work effectively. So many people stumble into this field and it's really important to recognize early on what you need to learn in order to be effective. ICE is a fantastic place to start that journey.