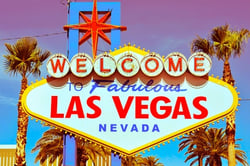 I recently spent two days in Las Vegas. It was a fun trip with my wife. We flew in on a Friday and were home by Monday morning. The story in between is for another time, but I learned something very interesting in my two days there.
I used Snapchat to capture all the memories of our trip. I grabbed shots of us at dinner. I took a video of us dancing. And, of course the countless selfies proclaiming, "I'm in Vegas, and you are not!" Upon sharing with friends and family, I was intrigued by their reactions to my Vegas Snapchat "story." They were so engaged! With just a few taps of my finger I put together a short story that was interesting, inviting, alluring, creative, beautiful, educational (ok, maybe not in Vegas)…you name it.
There were not a lot of bells and whistles and heavy design. It was all about the content and how my users interacted with it. I watched as my buddy Pat tapped through my story. If you are not familiar with Snapchat, you have the ability to tap ahead after you have "digested" the content. The definition of "digest" is different for everyone. This concept of skimming content is critical for today's modern learner.
Did you know the modern learner gets interrupted at work every five minutes? Unlock their phone nine times an hour? Won't watch a video longer than four minutes? (Source: Bersin by Deloitte.)
Apparently we no longer have a learning curve. It is now a "forgetting curve." Let's face it. In 2017, we even skim our daily news digests instead of taking a couple of minutes to watch a news channel. Traditional communication methods for engaging and motivating employees are no longer working. You have to capture their attention first and foremost, or they will be gone.
We follow a simple concept when designing our learning. It needs to answer the following three questions:
Does the learning motivate? Something that causes us to act out and perform. This will be different for each of us. Try to find that motivation to get our learners there and ready to learn.

Is the content memorable? When we think of the event (learning event), our mind takes us back to the same feelings, sights and sounds. We use images or a story to ensure our message is not forgotten. Looks do matter. It has to look good!


Is the training meaningful? Is the learning something personalized to us? This often costs less money but takes more time. Not like what everyone else received. My buddy Pat will never forgot the one selfie of him and I in front of the Bellagio fountains.
There are a number of techniques we discovered that have worked well. It starts with the people, our team of instructional designers and the skills they bring to the table. It is important to us that they bring all their skills and experiences to the table, both professionally and personally. Drawing on ALL of these skills opens up the world of creativity.
We also turn to marketing techniques to capture attention and move people to take action. Learning professionals can learn a ton from marketing teams. They know how to tap into how the human brain actually works (there's a reason you don't see bullet points in advertising).
We are also strong believers in that learning should be fun, when appropriate.
Interested in learning more? Please join me at my upcoming InSync BYTE session on Apr 25, 2017, 2:00 PM-3:00 PM EDT, for Grabbing Learner Attention (or watch the recording if you miss the live event.)
I will reveal some low-cost tools and techniques we have been successfully using for years. It could be a simple PowerPoint slide technique, a full production video or even a do-it-yourself solution to save some money. I will share many easy-to-implement examples that show these principles and technologies in action.
And who knows, I may even share my Vegas Snapchat "story" with you.