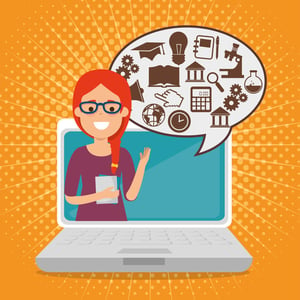 Virtually There Session Recap
Think back to the first time you ever facilitated a webinar, virtual training session, or a meeting. How did you feel about it? Most people, including members of our experienced team, found the process stressful. The very technology that allows for creating connections across great distances, intimidates seasoned pros. And even if the virtual classroom platform works without a hitch, we often wonder, "did learners get anything from that experience?"
Karen Vieth, InSync's lead facilitator, joined the Virtually There series on February 19 to share her insights into how advanced delivery can mean the difference between simple interaction and true learning in the virtual classroom.
Session Basics
Karen used her hour-long session to explore the ways in which facilitators can use more advanced techniques to improve knowledge transfer and help learners more fully engage in virtual training. The session covered:
How virtual classroom technology can connect learners with content

What it means for learners to be engaged

Ways virtual classroom facilitators can support engagement

Which competencies advanced facilitators demonstrate

How to promote three dimensions of learner engagement
Learning practitioners often incorrectly believe that the technology serves as the most important piece of a virtual training event. Karen clarified that the tech merely offers a way to connect learners with information, and facilitators have to figure out how make content relevant and how to make learners care about the learning process. And while the L&D industry talks about learner engagement all the time, very few definitions exist to help trainers understand when they've succeeded in capturing participant interest. Virtually There attendees discovered that our research now shows that learner engagement moves beyond an organizational behaviorist perspective of engagement and into a three dimensional concept inclusive of:
Environmental Engagement: How the learner's interaction with the learning environment changes both the environment and the learner's perception of the experience

I

ntellectual Engagement: What the learner thinks about the information presented in the learning experience

Emotional Engagement: How the learner feels about the learning experience
3 Key Take-Aways
If the InSync team had to hand pick three critical lessons that all attendees and readers (and all training professionals) would gather from Karen's event, we would recommend understanding:
"It's not the strongest who survive, it's the one who easily adapts to a changing environment that's successful." Yes! Naturalist Charles Darwin serves as a source of inspiration in the modern classroom. Facilitators today can no longer specialize in just face-to-face classroom instruction. The learning landscape now demands adaptability into new environments, including the live virtual classroom. Success for facilitators depends on getting unstuck, becoming unafraid of technology, and discovering techniques that encourage engagement in spite of the learning environment's limitations
"In the virtual classroom, the definition of diversity is expanded." Does diversity matter in the virtual classroom? Of course! But virtual facilitators need to think beyond the diversity of the roster. Different learner background and experience levels and geographical locations obviously impact the process. The virtual classroom introduces other types of diversity – interaction, collaboration, and instructional – all of which need attention, care, and consideration. Karen sums it up beautifully saying, "When we support diversity, we have to think about what kind of session we are running, who is the learning with, and what is the learner intent and how does that match my intent."
"Intellectual safety is a characteristic of an environment in which a person feels comfortable sharing ideas and opinions without fear of harsh judgment or repercussions." Learners engage when they feel safe and supported. In the virtual classroom, the technology can create a scenario that does not feel warm and welcoming. Advanced facilitators assume the essential responsibility of creating an environment that's inclusive, encouraging of contribution, safe for low-risk failure. While facilitators often have very little say in which environment they deliver training, they play a huge role in making the environment dynamic and comfortable for their learners.

Next Steps
This blog provides an overview of the expertise Karen Vieth shared. To use the information to advance your virtual facilitation skills, we recommend:
This content is based on InSync Training's InQuire Engagement FrameworkTM, which is a framework of instructional techniques, design strategies, and best practice standards for establishing and maintaining learner engagement and enhancing instructional outcomes in the virtual classroom.
The framework, developed by InSync's Dr. Charles Dye, is based on an operationalized situated cognition model and neuroscience, and optimizes learner trajectory by considering the learner, the learning environment, and the learner-environment interaction through measurable and well-defined measures of effect. Access the original research here: https://opencommons.uconn.edu/dissertations/2403/