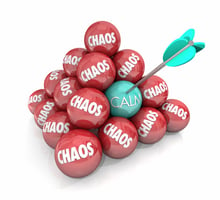 This post is part of an occasional series "Advice from the Virtual Trenches" where we share real lessons learned when virtual and blended learning didn't go as planned.
If you've ever attended a virtual learning event or webinar, you know that hiccups can and will happen. Access links may not work, audio may disconnect, video may freeze, background noise may disrupt instruction. Add in the element of human error, and the possibilities for technical difficulties become seemingly endless.
Thoughtful instructional design helps ensure that content presented in this learning environment aligns with platform capabilities. But instructional teams offer "on the ground" support and expertise to preemptively avoid and successfully troubleshoot these common modern learning challenges.
We asked our facilitators for their stories about how they handled it when things went wrong in the most unexpected ways. These stories serve as advice from the virtual trenches that you can take back to the job for insight into the possibilities of instructional adaptability!
Jen's Fast Thinking During a Fire Drill
"I was teaching the final session of a six-part course, and one participant shared that a planned fire drill would be happening at the one-hour mark of a two hour class, and take about 30 minutes. I decided that since we had a breakout planned anyway, I'd provide the materials needed early on, and they could break into their groups in the parking lot while they waited to be cleared to come back into their offices. I file transferred the materials needed to complete the breakout and assigned one person to print them out and provide to each group. They did a verbal debrief upon their return, and it all went smoothly. Definitely 'out of the box' thinking on this one!"
Elizabeth Smoothly Handles an Unexpected Attendee
"My office leads out to my garden. I like to keep the door open to enjoy the fresh air and once while I was facilitating a gopher made its way inside. I kept on speaking about the content all the while as it made its way into my office bathroom. I casually got up and closed it in and the participants had no idea I wanted to scream the whole time."
Team Work Makes the Dream Work
Just because our team works virtually, does not mean we don't stay connected. In fact, our online watercooler offers an in-the-moment, on-demand hive mind help desk at all hours of the day. Faster than an ambiguous Google search, the team comes together to help find session log-in information, corporate contact details, additional support resources like infographics and video links, and more. In our experience, the commonplace challenges happen with such frequency that having a trusted network to turn to for advice can make or break a session.
What meltdowns have you experienced? Share your stories in the comments below for camaraderie, commiseration, and commendation!