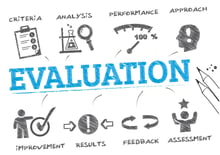 Evaluation of digital learning programs, (when it happens!), often focuses on the technology or the process. Was the virtual classroom technology appropriate? Did you complete the eLearning? Did you download the infographic?
These types of questions don't often provide satisfying results!
Instead of looking at technology and process, we should be evaluating results. Who cares if content is delivered in a traditional classroom or a virtual classroom, as long as the results align with the business need?
"Alignment" is certainly the key to success. The business has overarching goals, which our learning programs should consider when we define and design our learning programs. Learning objectives especially should speak to and align with those business goals.
But how do you get that accomplished? Here are some resources to help you to familiarize yourself with the concept:
So, let's accept it as a given that this alignment is critical. How does this fit with our evaluation strategy?
Your evaluation (and every step along the way), needs to focus on how the training intervention supports the business. Even the learner experience (did they like it?) needs to, somehow, help align the training with business outcomes.
Once you understand the strategy, you can design your evaluation strategy to ensure your program is making the grade!
Virtually There Online Magazine: Looking to learn more? It's hard to keep track of all of the resources informing the modern classroom. We keep an eye out for trends and best practices by collecting links from magazines, industry experts, and social media and capturing them in our online magazine, Virtually There.