What does it take to be an excellent Hybrid Learning Designer, Facilitator and Producer to ensure no learner is left behind during your virtual training sessions?
Hybrid virtual learning is perhaps the most challenging training environment. Not only do we need to intellectually engage individual learners, but we also must anticipate and accommodate many different scenarios.
Coming up in June, InSync Training provides you with a full schedule of free events, rich research and content to answer your questions about hybrid virtual training.
Ready? Get set. Go! Mark these upcoming free events on your calendar.
Modern Learning on the Air podcast - New Episode - June 2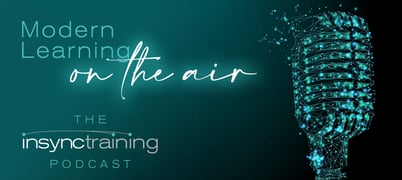 Dr. Jane Bozarth, Director of Research for The eLearning Guild and Dr. Charles Dye, Technical Director, Research and Evaluation, at InSync Training, explore myths in learning and development and how they impact learning outcomes today.
Free Virtually There Webinar
Hybrid is the New Blended - Designing to Meet the Needs of Today's Remote Workforce Engagement
Thursday, June 16, 2-3pm ET
Jennifer Hofmann, President and Founder of InSync Training
Karen Vieth, Vice President of Virtual learning Services at InSync Training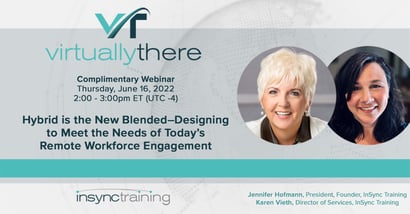 Today's hybrid training environment is complicated: Three people are logged on independently, another five are sitting in a room together watching your session projected onto a big screen, two people are sitting in the same room as you because they want a face-to-face experience, and some are on mobile phones. They are spread out over four different countries.
We need a learning model that adapts to where people need to learn, while also designing content in a way that meets the business goals. In this session we'll discuss the strong relationship between hybrid learning and blended learning. You'll learn how to make hybrid part of the blend, as well as how to adapt the blended learning design to the composition of the audience. Finally, you'll discover the importance of being flexible in facilitating blended learning in the hybrid world.
Free Weekly Webinar - Learn How to Learn Online
Discover the power and capability of the virtual classroom in our Learn How to Learn Online workshop. Interact with peers, learn from an expert facilitator, and experiment with virtual classroom technology functionality.

Are you interested in becoming a certified Virtual Learning Expert®? You can certify by the end of the Summer at a HUGE savings! You'll receive 10% Off Individual Courses or Save $800 Off the Entire Bundle!