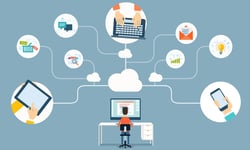 Training Industry Webcast Recap
Adult Learning Principles tell us that adults learn best when they believe information relates to their responsibilities. This theoretical principle serves as an important reminder: if learners don't feel connected to the content, they'll disengage.
In the virtual classroom, all the EdTech bells and whistles in the world will not replace good old-fashioned relevance. Scenario-based learning provides one way to make learning stick, and to combat boredom in live online training.
Scenario-Based Learning Defined
Virtual learning facilitation expert Karen Vieth believes a scenario-based approach makes all the difference for modern learners. When speaking with Training Industry webinar attendees recently, she defined scenario-based learning as:
"The use of interactive situations to engage non-engaged participants in active learning strategies. Typically, learners are presented with a problem to solve."
Beneficially, scenarios rely heavily on narrative, which we know activates the brain to learn more effectively.
Does this sound familiar to your instructional design process? Probably! Usually, we have a problem to solve and we design and teach content to help participants overcome a challenge, predict best practices, or a win game as an application of problem-solving skills.
Mistakes: Mission Critical
Incorporating scenarios into virtual learning sessions proves especially helpful in engaging our modern learners. At its core, scenario-based learning aims to provide interactive situations where we can engage our learners to work through a storyline to satisfy a specific conclusion. Along the way, we introduce new content, and most importantly, we allow learners to make mistakes as they apply the subject matter knowledge.
When learners make mistakes in a safe environment, they're forced to use critical thinking and problem-solving skills in context similar to the one in their day-to-day roles. Mistakes made in scenario-based learning events minimize mistakes made when it matters – back on the job.
Making the Connection to Adult Learning Principles
Remember, we as L&D practitioners are modern learners, too. If we think about the fact that as adults, we know that we have a learning path. We know how we like to learn. Sometimes we're given the opportunity to do that, sometimes we're not.
In scenario-based learning, we have that ability to get into a scenario that is relevant to us and the work we do. As we know from Malcolm Knowles, adults need to be involved, included and interested in the content they're learning, as well as the relevancy back to their job. We can't just enter into something and think it's nice. We have too much going on. We have to see how it relates to the job we do. Scenario-based learning helps us accomplish these goals.
A special thank you to Training Industry for hosting Jennifer & Karen's session, and to Cornerstone On Demand for generously sponsoring the event.