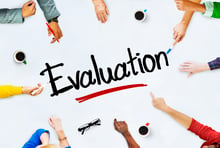 We spend a lot of time at InSync considering how to design, develop, and deliver great virtual and blended learning solutions. But how do we know they are, indeed, GREAT?
Creating content is only half of the learning development story. The other half is developing a plan for evaluating the learning. This requires crafting tools used to gather feedback that informs whether learners actually learned, as well as to determine to what extent learners apply what they learned in the workplace. An evaluation should also include on-the-job feedback as learners use newly acquired skills and knowledge.
Of course, each specific instructional strategy, technique, and technology has some nuanced evaluation strategies. We'll be discussing these in future posts, and digging deeper into them with a few of our clients, and we want to share relevant wisdom with you!
But for now, let's stick to the basics. An evaluation strategy is part of the instructional design process. You may be very familiar with the process - use the definitions below to help you explain the process to your clients!
Identify Business Need
The business need may be related to job performance, a skill or task, or some type of behavior. The learning program should effect change in specific areas that will influence the way people do their work, the implementation of new services or products, and/or business and job performance.
1. Assess Needs
A needs assessment helps to identify what must change in order to achieve desired outcomes. The assessment can, for example, identify tasks or processes that require updating; locate the root causes of a business challenge; gauge the quality of a service or product provided; focus on employees who would benefit from additional learning, onboarding; etc. These needs assessments also inform what success looks like once they are addressed and resolved.
2. Analyze Needs
Analysis identifies how to close the gaps that were identified in the assessment. It offers recommendations for the best approach to providing the learning content effectively and efficiently. It also helps to determine whether learning took place and supported on-the-job performance.
3. Develop Instructional Goals
Once L&D and business stakeholders reach agreement on which aspects of the recommendations to focus on, a learning strategy is developed. The instructional goal is developed here. This is a broad statement that lacks measurability, but identifies the aim of the course or class. This involves identifying who in the company participates in the learning program, and deciding when, how, and what they will learn. Budgets, schedules, and resources are also discussed during this development stage.

3. Craft Performance Objectives
Performance objectives guide the content, ensuring it aligns with the expected outcomes, and shapes the evaluation strategy.
4. Develop Evaluation Strategy
The performance objectives inform a plan for the evaluation strategy to address. The closer they are aligned, the more robust the evaluation strategy will be.
5. Design and Develop Learning Content
Learning designers and developers, in partnership with subject matter experts and other business leaders, begin to craft the learning content.
6. Implement Learning Program
Learners complete the program and are ready to apply newly-learned knowledge and skills.
7. Evaluation
Evaluation takes place after the learning has been completed. The Kirkpatrick Four-Level Training Evaluation Model is a commonly used evaluation tool that helps to determine the learning program's impact.
8. Iterate
Use the data collected from the evaluations to formulate a plan for revising the learning content. Then start the process again.
By using these eight components as your guide, you can begin creating a strong and effective evaluation strategy!
Curious about how to measure the success of learners and learning programs? Keep an eye on the InSync blog, as the team will share a number of evaluation-focused blogs and resources over the coming weeks.
Prove to your organization that you have achieved fluency in coaching and evaluation - and that your team adheres to world-class industry standard benchmarks with the training Industry's First-Ever Certified Virtual Learning Coach® certification.
In this advanced program, you'll learn to quickly identify successes and opportunities for improvement using robust evaluation instruments developed specifically for virtual classroom designers, facilitators, and producers, and how to assist members of the training team in creating their own paths to virtual training excellence. Click on the image below to register now.