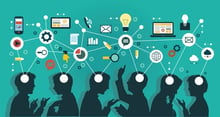 BYTE Session Recap
Our BYTE series has one goal: to better our audience through education. We have the good fortune to host guest presenters, like Bob Lee and Jim Recker, who help us work towards this goal.
In their BYTE, "Applying the Flipped Classroom Model to Business Learning" Bob and Jim helped attendees understand the value, concepts and components of the flipped classroom. Furthermore, they discussed tools that support this model and successful real-world examples of flipped classroom learning in business.
The blog post will share their definition of the flipped classroom, benefits associated with this model, and answers to participant questions posed during the presentation. To review all of the wisdom they shared, watch their full BYTE session recording here.
Traditional versus Flipped Classroom: What's the Difference?
Bob kicked off the session with an in-depth review of both the traditional and flipped classrooms.
In traditional classrooms, Bob explained, "We start by front-loading the lecture. The instructor spends the vast majority of the event time lecturing. Then we spend some time in discussion where there's opportunity for participant dialogue and Q&A. Ultimately, almost no time is given over to practice." We've been using this approach for ages in training programs, but, unfortunately, it's a passive approach that doesn't necessarily promote content absorption or in-depth learning.
Conversely, in the flipped classroom, lecture is minimized and the focus shifts to collaboration and practice. To achieve this focus, you "create the lecture and present it, typically online. You then give the learners the opportunity to view the lecture on their own and consume the content in a manner that best suits them. We expand the collaboration and discussion phase – we can do this in a brick-and-mortar room or online with a variety of tools."
In-class time use is the biggest difference between these two classrooms. In the flipped classroom, time is used for practicing the concept and applying the learning collaboratively with others, while most time in the traditional classroom is spent on lecture. Time usage impacts the role of the facilitator, as well. Facilitators act like the "sage on the stage" in traditional learning programs, while they become the "guide on the side" during flipped events.
Benefits of Flipping the Classroom
Flipping an existing learning program requires a significant amount of work, but there are numerous benefits that make it well-worth the effort.
Jim highlighted five major benefits:
You learn at your own pace
Reduction of costs
Promotion of collaboration
More time for issues, questions and practice
Crowd-sourced learning
"Learners," Jim explained, "leave the experience feeling more confident. They learn together in one venue and continue to learn together collaboratively in that same venue after the learning event is over. When this process is applied and implemented properly, we see true behavioral change."
Questions and Answers
"Is the flipped classroom three separate sessions, or is it rolled into one?"
Bob responded, "We traditionally see this as 3 stages. It's better when it's done in stages because when you're delivering the content in a recorded fashion and uploading it, people learn at different paces. You may have a scenario where some learners need more time to go over the material and absorb it in the manner that makes them most comfortable. The discussion and collaborative phase also takes a bit of time. When you apply social platforms, you can have days or weeks between when you post the content for people to review, and when you have that in-person experience. The time between the posting and in-classroom experience can be dedicated to talking about it, asking questions, and learning from one another. It tends to be staged and over a longer period of time, making three separate sessions a better option than one."
I find corporate learners have become more passive over the years, and I struggle to get them to complete pre-work. How do you manage that in flipped classrooms, where pre-work is such an essential part of the process?
Bob and Jim suggested, "One of the ways that you can start towards the path of flipped classroom success is to level-set expectations. Many programs I've looked at and worked on jump into handing out the material and then do the flipped process of the follow-up session without setting expectations. Without defining what the participant responsibility is, people don't do the pre-work, because they assume it's optional. To get from self-paced content into the live discussion, there has to be rules, like, 'finish the pre-work materials, or the live session will be a waste of your time.' I have no problem looking at learners and saying, 'you are responsible and you need to take responsibility for this portion of your professional development.' Some people will accept that and some won't. You can also add an extra layer of responsibility by getting leadership buy-in. If there's an expectation from somebody's boss, participants are more likely to get the pre-work done."
There's no way my instructors will stop lecturing! They see themselves as learning conductors. How do you get them on board with this new approach?
Bob explained, "There may be instances where instructors won't be comfortable with the coach and support role, instead of the lecturer role. Identify those folks, and give the opportunity to those who'll be comfortable as the guide on the side. Recognize that some people may not be comfortable changing, and that's ok! Just ensure that you identify those folks who are opposed to the new process and work with them, or around them."
To learn about the four elements required to flip the classroom, how to know when this model is appropriate for your business learning event, and for a real-world example of flipping a traditional classroom, watch the full BYTE recording by clicking here.
Curious about the flipped classroom? Take advantage of these additional resources: