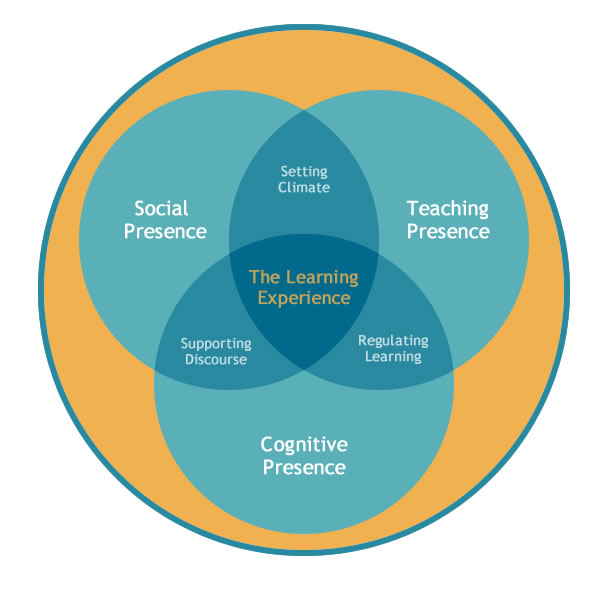 Throughout this series we have explored social, teaching, and cognitive presence - the key elements within the Community of Inquiry framework. This last installment explores the intersection of these three presences and approaches to measuring the effectiveness of the work we do in the design, development, and delivery of eLearning.
At the Core of the Community of Inquiry Framework
The Community of Inquiry framework is often depicted with the accompanying Venn diagram which illustrates the three presences (social, teaching, and cognitive), along with their intersections. At the core of the framework and the Venn diagram is the educational experience with the intersections listed as selecting content, setting the climate, and supporting discourse. Using these intersections as a starting point, we can explore how we can intentionally design to support this framework and measure our results.
A Framework for Instructional Design
What is happening at the intersection of cognitive and teaching presence? With a design approach based in the Community of Inquiry framework, the learning event design process relies on aligning content with learning objectives, and structuring a pathway that will engage your learners with learning material, instructional activities, applied scenarios, and interactive opportunities with the instructor/facilitator.
A Framework for Building Community
What is happening at the intersection of teaching and social presence? In support of learner success, we need to understand that continuous interaction and engagement between instructors/facilitators and learners are at the core of setting the climate for learning. The Community of Inquiry approach to eLearning delivery encourages an open exchange of ideas with respect for diverse opinions and interpretations of meaning. Facilitation of dialogue and instructor/facilitator presence is, as we all know, crucial to participant engagement and retention.
A Framework for Instructional Delivery
What is happening at the intersection of social and cognitive presence? As eLearning professionals, we exemplify Community of Inquiry effective practices by guiding our participants through learning materials, reinforcing key concepts, fostering critical thinking skills, providing formative feedback and support in a timely manner, and continuously evaluating progress throughout the learning experience.
Learning event facilitation and contributions to dialogue foster a safe, open learning community, where learners are willing to post new questions and share their ideas. And, as subject matter experts, we bring valuable insight to our learning spaces and provide the guidance needed by our participants in order to evolve and grow as learners.
A Framework for Informed Review
The Community of Inquiry framework has long been accompanied by a nationally recognized survey instrument that assesses student satisfaction. Many higher education institutions use this survey instrument as an end-of-course survey in online courses, providing data used to assess and inform changes in course and program design, faculty professional development needs, and initiatives in support of student satisfaction and retention.
This assessment data provides the ability - at both the course and program level - to review student impressions of the social, teaching, and cognitive presences in the courses that they take, informing recommendations for guided enhancements in order to improve student satisfaction and outcomes.
How can this survey inform the work we do as eLearning professionals outside of higher education? Earlier in this series we explored the notion of providing opportunities for feedback - possibly even hosting a feedback open house, empowering your learners to help you design a better learning journey. I highly encourage you to review the Community of Inquiry survey instrument, and play with the notion of bringing elements from the survey into your own measurement tools, or hosting a feedback open house highlighting a few questions related to each presence.
Many of our eLearning event evaluations focus more on how the learners feel about their learning journeys as opposed to how much they actually learned, and how much of that new knowledge they will be applying to their work that they do. The Community of Inquiry survey instrument questions probe both areas, and at the same time inform the successful (or not) design and delivery aspects of the online learning space.
I highly recomment that you review the survey questions available online (click here), and think about ways that you can integrate the questions posed there into your eLearning design and delivery strategies.
For many of us, we rarely get the opportunity to see how our eLearning efforts have impacted the bottom line of our learners. The Community of Inquiry survey questions probe into the impact of our learning journey by asking if our learners can describe ways to test, apply knowledge, develop solutions to problems that can be applied in practice, and apply new knowledge to their work.
I hope that you have found value in this series of posts exploring the Community of Inquiry framework, and that you found at least one solution to a problem that can be applied in your own eLearning practice. I encourage you to continue your learning journey and to seek out new and exciting pedagogical principles to integrated into your eLearing strategies.