---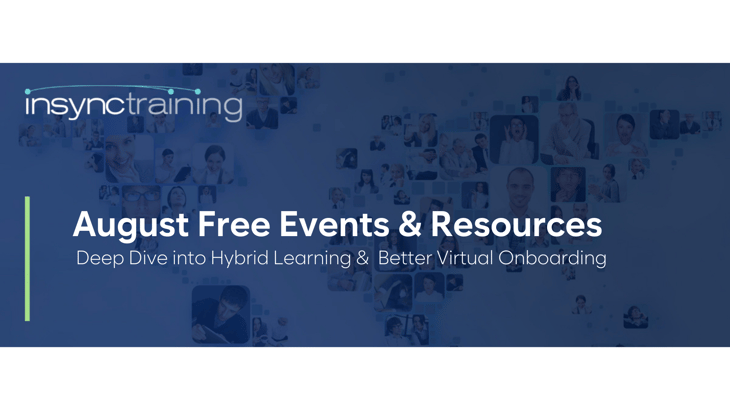 88% of employees believe their organizations do a poor job of onboarding, according to Gallup.
Throughout August, we've got free resources and events full of valuable tips and insights into creating excellent virtual onboarding training for your organization.
Scroll Down to register now and learn more about this month's learning opportunities.
---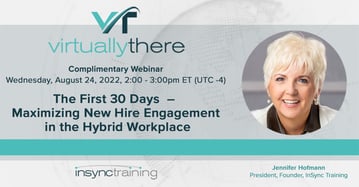 Free Virtually There Webinar
The First 30 Days - Maximizing New Hire Engagement in the Hybrid Workplace
August 24 | 2pm ET (New York) (UTC -4)
You only have one chance to make a good first impression. A strategic onboarding process is the best way to kick-start employee engagement, especially in remote and hybrid workplace.
The "Great Resignation" has illustrated that employees want a better working experience, and not just a job. As we rebuild the workforce, we need an engaging onboarding process that connects new hires to their jobs and to their peers sets the tone for everything that comes after. But how do you accomplish this while remote employees in a hybrid workplace? This session explores the top considerations for designing a virtual onboarding program, how to connect remote new hires to the rest of the organization, and how to make the first 30 days on the job positive, memorable, and energizing.
You'll leave with a roadmap of activities to implement during a 30-day onboarding process.
---
Free Weekly Webinar - Learn How to Learn Online

Today's hybrid training environment is complicated: Three people are logged on independently, another five are sitting in a room together watching your session projected onto a big screen, two people are sitting in the same room as you because they want a face-to-face experience, and some are on mobile phones. They are spread out over four different countries.
We need a learning model that adapts to where people need to learn, while also designing content in a way that meets the business goals. In this session we'll discuss the strong relationship between hybrid learning and blended learning. You'll learn how to make hybrid part of the blend, as well as how to adapt the blended learning design to the composition of the audience. Finally, you'll discover the importance of being flexible in facilitating blended learning in the hybrid world.
Discover the power and capability of the virtual classroom in our Learn How to Learn Online workshop. Interact with peers, learn from an expert facilitator, and experiment with virtual classroom technology functionality.
---
New Episode - Modern Learning on the Air podcast
August 11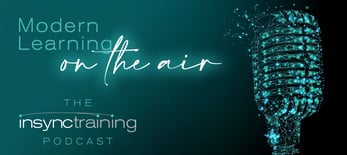 What's Driving the Need for Onboarding?
Gallup research says 88% of organizations don't do onboarding well. Join Jennifer Hofmann and Karen Vieth and special guest, Stephanie Goodell, Certified Virtual Facilitator and Producer, to find out why excellent virtual onboarding retains talent and steps you can take to create successful virtual onboarding training for your organization.
---
Get your roadmap to virtual excellence in just 3 easy steps - and it's free! Click here to Book your 30-minute free roadmapping consultation today!