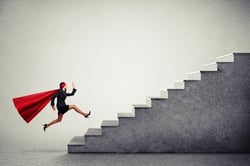 Picture it: You're a veteran virtual learning producer. You've arrived forty-five minutes ahead of a session, you're well prepared…and everything goes wrong. Do you panic? Or do you put all your skills to good use?
InSync Training's veteran producer Kathy Piazza managed to keep her cool in a high-pressure producing situation, and managed to keep the session moving and the learners on track.
In this blog post, she shares her step-by-step, moment-by-moment, rollercoaster ride of a session.