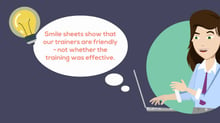 When you're implementing a new training initiative, one of the first questions your sponsor will ask is, "How will you measure the success of your program?"
For many, this may incite a rapid heartbeat, flushed skin, and sweaty palms. After all, measuring any training is difficult, and figuring out what will be appropriate measurement for a new program is complex.
The good news is that content makes it easy for you to measure several of the common key performance indicators of training effectiveness.