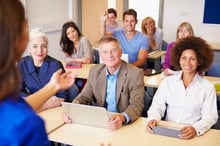 We L&D professionals are lucky. With today's technology, we have options to engage every learner audience, in every possible environment. Even if you have a tight budget and a small team, you can deliver a comprehensive blended learning program. And this is all thanks to learning technology.
Granted, not every organization is comfortable using technology to deliver training. If your learners and leaders are used to traditional training in a classroom, implementing virtual classrooms and e-learning will require a transition.
That transition starts in your own mind, by examining the way you define learning.