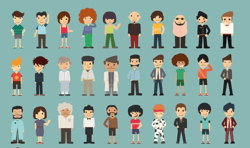 What do you know about the changing demographics of the United States? Pew Research Center found that, "Americans are more racially and ethnically diverse than in the past, and the U.S. is projected to be even more diverse in the coming decades." With the U.S. becoming more diverse, and with this shift in the population demographic, comes the need to diversify learning solutions.
As L&D practitioners, the demands of our job now require us to not just expect different faces in the room, but learners with different needs and abilities, both in person and online. The popularity of blended learning has increased exponentially over the years and is now being heralded as one of the most cost-effective ways to distribute information and impact behaviors across organizations.
How can you ensure your blended learning strategy meets these diversity demands?