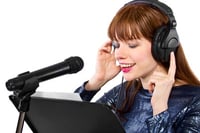 You've put the finishing touches on the script for your client. Your company has just spent thousands of dollars creating the perfect visuals, countless hours perfecting the story, and you've even decided on some cool background music.
It all looks fantastic, should be a huge success. Right? Now, all you need to do is have somebody voice these modules.
Who? How about Mary or Joe in Accounting – (such a nice voice)?