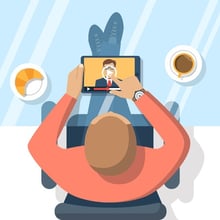 Martyn Lewis, Principal and Founder of 3GS, joins the ranks of both InSync guest bloggers and BYTE presenters. Don't miss his BYTE session, Reversing 200 Years in the Wrong Direction with Blended Training, on February 28, 2017.
There is always at least one. One person in a training program, or worse still, that couldn't make it to the program, that asks, "Can I get a copy of the slides?" I am on a personal mission to never hear anyone ask for a copy of the slides again.
Why do we so often hear people ask for a copy of the slides? Simply put, it is in the belief that the learning content of the training program exists across a sequential series of PowerPoint slides. It is the belief that if you were to "read" the slides, you could get the content, rather like reading a book.