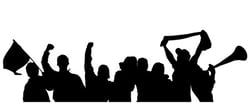 Some folks talk about training as "coaching." I think they have the metaphor wrong. Coaching means developing skills within a team by repetitive drilling and motivating them using a combination of respect and fear. Real training is nothing like that. Real training is more like cheerleading than coaching.
Engage the Players (Learners)
So I'm standing in a conference room with my trusty slide deck and handouts, looking out at the other folks in the room for my training. My position looks like it's up front but really I'm on the sidelines. The real action will be with those learners.