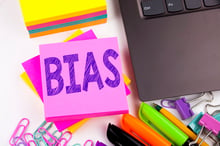 Virtually There Session Recap
Many factors influence your professional success – hard work, opportunity, your network, and quite frankly, a bit of luck.
But what if there is an unseen factor that shapes your future and progress? Diversity training expert Christine Miles knows from experience this is true. During her engaging Virtually There event, Christine astutely advised that bias plays a significant part in our advancement.
If we can't see bias – our own and that of others – how do we combat it or use it to our advantage? Christine shared her proven process for going beyond diversity and towards awareness for better business results (watch the entire Virtually There replay here).
The Basics of Bias
Googling the term "bias" results in an overwhelming number and variations of definitions. Perhaps even more confusing, many different types of biases exist. Which do we need to understand for improved performance?
At its core, Christine defines bias as our brains "[creating] an automatic shortcut that we can use to make decisions quickly."
While it often comes with a bad reputation, bias actually plays an important role from a neuroscience perspective. Our brains receive an astounding amount of input every minute, and biases create shortcuts, reducing cognitive load. Bias, Christine explained, "is a survival mechanism that is really hard wired. The reality is that the world is big and complicated."
Bias in Business
So what does this brain science have to do with our success at work? Quite a lot, actually.
Studies show that when we meet someone:
It only takes seven seconds for a first impression to form.
In 27 second, we determine whether that initial impression is a positive one.
We decide whether or not to form an emotional connection with someone by the 30 second mark.
Think of all the people you meet and their influence on your personal journey. Stakeholders, potential employers, recruiters, and colleagues make snap judgement about you – good, bad, and indifferent – and this impacts your interactions moving forward.
Battling Bias
Despite the swiftness with which people make decisions about you (and you about them) we can change the narrative – literally.
The most effective way to battle the biases people form about us, Christine observed, "is to tap into the story you tell about other people, and the story they tell themselves about you."
Do you know how people perceive you? What makes you stand out, positively or negatively? Identify these characteristics through self-reflection and discussion with friends and co-workers. These exercises allow you to present your strengths more consistently. Discover how you display yourself to the world and purposefully manage it.
Alternatively, gaining awareness of the stories you tell about others can reduce your bias. When you meet someone new, ask yourself:
What assumptions did I make about them?
Were they accurate?
Why did I make these inferences?
The key to battling bias, Christine hypothesized, comes from awareness, both of ourselves and of stories. Use the approach to improve your navigation of the business world and your personal relationships.
Missed Christine Miles' Virtually There event? Watch the entire session replay here and download the helpful related infographic to apply her approach to your day-to-day work.