BYTE Session Recap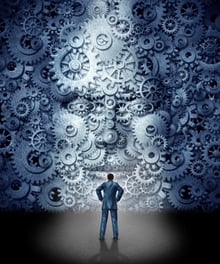 As we start to build our relationship with our learners, we want to ensure they turn to us and our resources when they encounter a challenge or have a question on the job. How do we do that?
In her recent InSync BYTE series event, Modern Learning is Perpetual Learning - How Do We Become the "Google" of Learning?, Jennifer Hofmann answers this exact question. This blog details her proven six step approach.
Watch Jennifer's entire session for insight into the reality of learning today, complex content in the age of internet search, and creating learning campaigns. To watch the recording, click here.
Why It Matters
Learning professionals today need to build relationships with their learners. These modern learners have the entire internet available at their fingertips, but we want them to come to us when they need to learn something, or reinforce existing skills.
Our resources, like infographics, videos, and job aids, include vetted information. Google search results may not. In order to ensure that learners use approved approaches and qualified content, we have to create a learning culture where learners pull from our content first.
Ultimately, making an effort to shift the culture makes us invaluable to our learners and organizations. It gives us the opportunity to have a tangible impact on performance.
Step 1: Establish Credibility
If we want to become the Google of learning, we begin by building a relationship of trust with our learners by establishing our credibility as a resource. Start doing this during traditional formal training events, like classroom or live virtual learning sessions. Fundamentally, according to Jennifer:
"We need to design and build and facilitate learning in such a way where they know right off the bat they can trust us and our resources. They need to leave those events knowing we continue to be a resource."
Step 2: Grant Accessibility
Gone are the days of obsolete learning guides. If we're going to become the Google of learning, we must make the content from formal learning events easily accessible to our learners. Here's where microlearning comes in. Instead of creating a workbook or massive slidedecks for those events, create bundles of microlearning resources that can be used by learners later. For example, if we're creating learning for customer support representatives, swap out a workbook page of six detailed steps to handle an irate customer for a tool that's meant to hang by the phone. In class, go over the process and guide them on how to use this tool while on the phone with unhappy customers. Jennifer urged:
"Don't just use these tools in class. Tell and teach and encourage people to use these resources outside of class. Teach them how to use the tools rather than memorizing everything."
Fundamentally, we should teach people how to learn on their own.
Step 3: Ensure Accuracy
Learners believe Google has the correct answer, so if we're going to replace it, our content must be absolutely accurate. As Jennifer pointed out, "We need to have great, accurate, on-the-mark resources that are up to the standards of our instructional designs." Just because we create microlearning resources doesn't mean they don't deserve the attention we'd give to formal learning elements. Don't rely on instructional technology to make these resources beautiful and interactive and expect it to be enough. The microlearning has to be right, and easy to use, and well-designed. More often than not, Jennifer observed, "We rely on it being pretty more than we rely on it being right."
Step 4: Communicate Relevance
Just because the resources exist, doesn't mean learners will use them. Make sure the resources address learner needs, and that those same learners know what their needs are. Jennifer explained:
"There's nothing more frustrating than a learner accessing a resource they didn't need, or spending an hour in a webinar and coming out not learning what they expected to learn."
Don't guess about learner needs. Go do the research required to identify the moments of learning need. Becoming the Google of learning requires that we embed learning in the flow of work. Knowing moments of learner need for your audience, and working to address them organically on the job, gets us there. Communicate to your learners that your resources answer their in-the-moment questions and contain relevant information.
Step 5: Expand Availability
Learners know how to get to Google, so make the path to your resources clear, too. As Jennifer said:
"We can create the best stuff in the world, but if learners don't know how to get there, it doesn't matter."
Spend time teaching learners how to get to and use the tools. Turn your microlearning pieces into an overarching macrolearning program. Explain to them, "Here's a job aid, a video, and a worksheet that all address this challenge you'll have while working. This is when you use them, and this is how you get to it." Define where the toolkit lives, and learners will be more likely to use it.
Step 6: Provide Value
This is the most difficult step we have, answering the question, "Why come to us instead of Googling it?" How do we change the mindset of learners so they come to us, when, traditionally, it was rare to go back to training materials?
One word - curation. Jennifer encourages us to do more than providing lists of resources. She recommended:
"Tell people why a resource is valuable. Explain what you learned from each piece, and why that equates to value to them as learners."
Acting as a learning curator turns us into trusted advisors and resource advisors. That's more than a step above Google.
Additional Resources