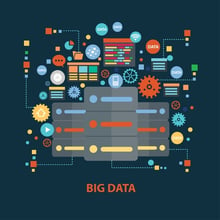 Virtually There session recap
Big data has become a big deal for the modern workforce. Publications like The Atlantic, Harvard Business Review, and The New York Times have covered the topic, and institutions like Gartner have researched its application for organizations. So what does it mean for those of us in Human Resources and Training?
Guest speaker Claire F. Kuhl helped Virtually There learners gain a basic understanding of big data, and envision how they can use it as a tool within their talent management processes during her recent session, What's the Big Deal About Big Data?
Defining Data
Before we can incorporate big data into our programs, we have to understand the fundamental levels. Claire explained:
"According to Gartner, when we talk about Big Data, we're really talking about the 3 Vs: volume, velocity and variety. When you have all of them at high levels, and you can use the information for understanding and improved decision making in your business activities."
So you've amassed information about your employees, learners, or target audience. Is that all you need? Not quite. We have to analyze that information to make it applicable and actionable.
"Predictive analytics is a general term for taking big data, slicing, dicing, and understanding it so we can make better business decisions," Claire shared. You have likely seen predictive analytics in action when online shopping. Amazon makes suggestions for additional purchases based on your past orders and the behavior of millions of other shoppers like you.
From a learning and HR perspective, we are interested in statistical data that allows us to effectively predict future scenarios. Our experience with Amazon highlights the power of prediction: it provides the ability to help us make more informed choices.
Making the Connection to Talent Management
If predictive analytics can identify our next purchase on Amazon, why can't it tell us who to hire next? Research shows that it can (to some extent).
Claire highlighted a Harvard Business Review article titled, Competing on Talent Analytics, that identified six areas where big data and predictive analytics can help us in talent:
Understanding key indicators of the health of our organization (How is the business doing with staffing in general?)
Understanding units, departments, individuals that may be cause for concern (What teams aren't working effectively?)
Understanding the organization's return on its HR investment (Is the organization maximizing resources in this department?)
Understanding the flow of your workforce (When is it time to staff up or cut back?)
Understanding employee retention (Why do employees choose to leave or stay?)
Understanding the available talent pool (What can we do to get the right people on our team at the right time?)
When you think about the talent development lifecycle, Claire believes that predictive analytics are especially useful in screening, selecting, training, team development, succession planning, and career transition.
Collecting and synthesizing big data doesn't have to be a full-time job. There are many tools that can help.
Listen to the full recording of Claire's excellent session to learn about the tools available to help bring predictive analytics to your talent management initiatives.