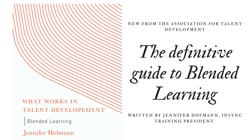 The term blended learning has come in and out of vogue in corporate training for the last several decades. For so long, in fact, it feels like an old-fashioned term. A term that is not modern enough for the current learning landscape.
The reality is that modern learning strategies, techniques, and technologies seem to be custom designed for the blended learning approach. But we need to stop thinking about designing a blend only after the so-called "important" content is developed. As I state in my new book, Blended Learning: What Works in Talent Development (ATD, 2018):
"…modern blended learning is more than sequencing different media and activities that happen to be related by topic. It is about aligning learning objects with the most appropriate instructional strategies, techniques, and technologies, while meeting the needs of the organization and modern learners."
Blend with Intention
Modern learners are distracted, overworked, overwhelmed, and on the go. As we think about how to design a learning experience to meet the needs of this modern audience, we need to plan to create a learning campaign that blends shorter content pieces, like microlearning or virtual lessons, into a learning journey that supports individuals through their formal and informal moments of learning need.
This means we need to thoughtfully envision the entire learning journey up front – before storyboarding eLearning or scripting videos. We need to visualize what the learners need and embed the correct learning asset when and where they need it.
It comes down to intentional instructional design.
What Works
The basics of instructional design remain the same with blended learning; but instead of designing two-day workshops or 20-minute eLearning modules, we are designing many individual learning assets that are intended to both stand alone and be integrated into a proscribed learning journey. Again, from my book:
"To ensure your blended learning program is successful, and continues to be successful over multiple deliveries, you need to create a plan to strategically manage the content so it is always up-to-date and continues to be useful. You also need to curate new content so that the program and its component parts never feel outdated. Your implementation plan also needs to address the people part of the blend, including the evolving roles of facilitators, producers, and managers."
Below, I've included a worksheet that helps you plan the implementation of a blended learning campaign. Specifically, the implementation plan worksheet addresses the following, probably familiar, steps in the blended learning instructional design process:
Conduct the needs analysis

Design the blended learning campaign

Propose the blended learning campaign design

Design and implement the content strategy

Design and implement the facilitation plan

Design the evaluation plan
Looking for more guidance creating a tactical, detailed instructional design plan? Move to the next level with the tools referenced at the bottom of the worksheet associated with this blog.
But Wait, There's More!
The blend is about more than the anticipated learning path. It's about the journey through curated content and material that support other moments of learning need (not just those moments anticipated by the original design). It's also not just about learners - it's about engaging the entire organization in the process, including managers, facilitators, and other stakeholders. We'll tackle those in coming months, as we explore more in depth about blending with intention.
Resources: