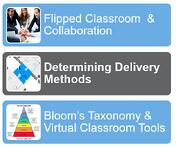 As instructional designers we are constantly being bombarded with new technologies and new trends. It's difficult to distinguish which are
fads
, and which are worthy of our investments of time and resources.
The safest, and often most expedient course of action is to continue to focus on the delivery technology we know is NOT a fad, the traditional classroom. After all we've been using the traditional classroom forever, how can we possibly go wrong teaching in a classroom in front of an audience?
As new technologies, like the virtual classroom, eLearning, and social media, are introduced, we continue to play it safe by trying to make these technology experiences replicate the classroom.
There are two issues with these assumptions:
The classroom has been utilized for so long (centuries!) not because it is the most effective means of teaching, but because it was the best "technology" that was available at the time. However, this setting is often the least optimal for delivering a particular piece of content.

As the use of various learning technologies becomes commonplace in training departments, a perception has been building that implies that you can force fit any content into any technology.
But can you really teach ANY content using ANY technology? This seems to be the perception as the use of various learning technologies become commonplace in training departments. A group purchases Webex™ (or Articulate®, or….), so everything needs to be delivered using that platform.
There are several fundamental problems with this perception:
We are looking at entire programs (i.e. project management or sales training) and attempting to force the entire program into one delivery modality.

There's an implied assumption that all delivery modalities treat all types of content in the same way.
So what's the solution? From an instructional design perspective we should be looking to develop much more of a blended program than trying to fit all content into one convenient delivery modality. At its essence, instead of making a design decision to teach project management via a specific tool, we need to break project management into its component learning objectives and match each learning objective to the best technology available.
We've got a lot of resources for you to learn more about this topic, including:
a whitepaper on how to apply Bloom's Digital Taxonomy to blended learning design (click the picture below to download the whitepaper)
a recording which introduces the flipped classroom and its relationship to blended learning instructional design,