D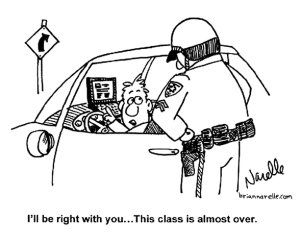 id you realize that BYOD (Bring Your Own Device) was one of the hottest buzzwords in computing? Try an experiment. Go to Twitter and search for #BYOD and see how many references have been made using that hashtag in just the last hour. It's everywhere. Posts about security (Bring Your Own Disaster), inevitability (young people will use their own devices even if it is not allowed) and usability (How great is this!) will be immediately available for your perusal.
BYOD is not just a trend – it's happening all around us. For those in corporate education, it is becoming an expectation. Our audience wants to learn WHENEVER and WHEREVER they are.
It is getting so organizations are starting to enforce policies like "Employees are not permitted to participate in a virtual class while driving."
Wow! It's a new world for training.
So, we've been experimenting. Recently, InSync delivered a short session for the Cascadia ATD annual conference. The facilitators delivered remotely, while the onsite audience, co-located in one room, had the option of watching the projected screen or logging on with their mobile device. The room had a very experienced moderator to help interested people log in, printed directions, and the assurance that if they couldn't log in, it was fine. The content would also be delivered on the projected screen. Logging into their mobile devices was an optional experience.
The result: Many members of the audience were much more concerned with how to get their personal devices to work, and less concerned with the content being delivered. The time was spent trying to manage, for example, the difference between virtual whiteboards on a Android tablet as compared to an iPhone.
You would think that after all this time we would have remembered that technology that has not been mastered is a distractor to the learning process.
In the spirit of 'better late than never," I started researching how other professionals were managing BYOD. Here is my short list of pros, cons, and best practices.
Pros
If an individual is using the same device for work, learning, and personal use, they develop a strong 'technical literacy' with that device, and tailor it to work for them. The device becomes a natural extension of how they communicate, and the learning curve for new tasks incorporating that tool can, in theory, be reduced.


BYOD encourages collaboration outside of the 'learning event' or the 'workplace.' The concept of "I left the password for the eLearning at work" doesn't exist, because the device is always with you.


BYOD supports public policy concerns about learners with special needs. English to Speakers of Other Languages (ESOL) learners, or those with hearing or sight impairments, can utilize a device that supports their personal requirements. When the device is the same for phone calls, email, learning, and leisure, individual concern about success is greatly reduced.
Cons
BYOD by definition implies 'whatever you want.' But not all devices are created equal. The device chosen (iPad, tablet, et.c) can create a very different user experience and each individual's budget, personal preference and available connectivity all contribute to which device is chosen. For example, what device is most appropriate for a learner's budget? Or, do they prefer a tablet, a laptop, or a phone? Are they a Windows user or do they prefer IOS? And of course, different connectivity options such wireless or cellular networks can create very different user experiences. For the facilitator of BYOD virtual classrooms, this means they must become familiar with a great variety of devices and operating systems, and the way the virtual classroom works in these various systems, in order to seem credible. It is so frustrating to be judged on this new technical literacy requirement before we can start to teach and encourage collaboration!


Learners need to be taught how to install apps/software and how to collaborate with their specific device and configuration. And then, there are upgrades to hardware and software to consider!


Because the variance is so high, and the inter-operability between application versions is not always known, programs will need to be designed for the lowest common denominator. Programs designed to be very hands on and collaborative may not be great on some devices.


Information Technology (IT) departments continue to be concerned about BYOD - letting any device onto a private network is a nightmare for colleagues in charge of security.
Best Practices
Create a policy for BYOD in your virtual classes. Perhaps create a COLLABORATION RATING. An "A" Rating means "highly collaborative, laptops required." A "B" Rating might mean "BYOD." Publish the requirements and send out reminders with the calendar invites. Be strict! One person trying to participate from the airport on their smart phone in an "A-rated" class could derail the experience for everyone else.


Create short tutorials (eLearning, recorded virtual sessions, etc) that teach people how to install and use each expected iteration of the virtual classroom software. For example, how do you chat on Webex on the iPhone? How about video on using an Android tablet in Adobe Connect?


USE A PRODUCER! The producer should be the person dealing with the tech, not you.


Designers - know your audience and the devices they use, and design for those experiences. Pilot the designs with a realistic group. Sure, the app says breakout rooms work, but what is the EXPERIENCE like for the end user? How does the producer troubleshoot the experience?


Manage distractions. If the device is where a person's LIFE (working, learning, communicating) happens, distractions will be everywhere. Keep your programs designed to have learners interact every 3-5 minutes, or more.
We are getting closer to the time when the device won't matter at all. But we aren't there yet. Expect some hiccups along the way and be ready to mitigate the problems!