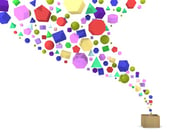 BYTE Session Recap
On Monday, October 26, 2015, our BYTE series welcomed guest presenter Margaret Uhrich. She cheerfully shared her favorite creative uses of Adobe Connect pods to increase learner engagement with our audience.
Margaret loves virtual training, stating, "I love when I'm training virtually that I get to work in the Adobe Connect product because of all the fun things that you're able to do with it. It's extremely creative and it allows us as designers, when we're designing training, to think outside the box."
Common Practice
Margaret began the session by explaining that a common practice in the virtual classroom is to use the platform primarily as a screen sharing tool. In fact, it's estimated that 85% of Adobe Connect users only take advantage of 20% of the available interactive features.
The reason behind this common practice lies in a lack of training. Facilitators don't know how to use the platform to its full potential.
Only using screen sharing severely limits the creativity of your training session. By fully understanding the features your virtual classroom platform has to offer, you are better able to help attendees meet outlined learning objectives.
Managing Distractions
Distractions pose a huge obstacle for virtual classroom learners – everything from email to coworker interruptions can steal attention away from the training session.
By making your sessions as creative and engaging as possible, Margaret argues that you can battle participant distraction. Margaret, per learning leader Cindy Huggett, recommends doing so by blending art and science.
Science: your platform's functionality
Art: your creative ideas
By bringing your vision together with what the platform is able to do, the learner wins! They learn what you want them to learn because of engagement.
Creative Use 1: Video
One creative use of Adobe Connect that Margaret demonstrated during the session is video. Thanks to resources like YouTube and inexpensive video equipment, using video in a virtual classroom is easier than ever. Adobe Connect has video pods available for this purpose, including a YouTube pod.
Participants contributed why they believe video has learner engagement potential:
"It offers diversity."
"Can deliver powerful and complex messages in a short amount of time."
"Presents scenarios that might be challenging to set up."
Margaret agreed, saying, "Video can provide another perspective. You can do so much with video that one presenter can't do. It's entertaining. It allows your learners to hear a different voice. It adds variety to your session, and that's the key to achieving the engagement you're looking for."
Margaret warns, though, that video alone may not be enough. For maximum engagement, video should be no more than five minutes long, and should be paired with an interactive task, like a chat exercise.
Creative Use 2: Whiteboard
At Margaret's request, session attendees discussed their favorite whiteboard activities with the group.
Input included great ideas such as:
"I utilize Wordle for the participants when we ask a question that will provide a large variety of responses. They contribute their thoughts on the whiteboard and then I display the results with a visual Wordle."
"I have participants whiteboard ideas, and then use the 'pick and move' tool to sort them into categories."
"As an icebreaker, I ask learners to draw a picture of what they see outside on the whiteboard."
"I have my learners put their initials to the right of the qualities in which they feel strong. Then they put their initials to the left of qualities they believe they need to work on. Those with initials to the right of a quality coach those with their initials to the left."
Creative Use 3: Enhanced Chat
Adobe Connect has a free pod called "Enhanced Chat."
Margaret demonstrated that in Enhanced Chat, you can change font colors, add bullet points, underline and boldface text. This pod essentially combines the best features of a Notes pod and the basic Chat pod. Thoughts are organized in an easy-to-follow stream of thought.
Margaret believes it's a great brainstorming pod for use in breakout sessions or on the main stage.
Creative Use 4: Layouts
The layouts within Adobe Connect differentiate them from their competitors. A designer's ability to use different layouts allows for maximum session creativity.
Virtual classroom sessions should have multiple "stages" or visually interesting arrangements. Layouts give you the power to change things up and add variety to what learners see.
Margaret thinks layouts are one of Adobe Connect's best features because, as she said, "It's a huge convenience. I can load them ahead of time. Plus, I don't have to try and make everything work for the whole session in one layout."
Margaret closed this highly-interactive and informative session by encouraging attendees to visit the Adobe Connect Extensions page. On this page, you can find all the available pods for use on this platform. She also encouraged learners to check out the Adobe Connect Users Group on LinkedIn, as it's a great place to get any questions you may have answered.
We appreciate Margaret sharing her wisdom about Adobe Connect with our BYTE series audience. To access the full BYTE session recording, click here.
For detailed, hands-on instruction in all of the capabilities Adobe Connect has to offer, check out our Maximizing Adobe Connect Workshop by clicking on the graphic below.